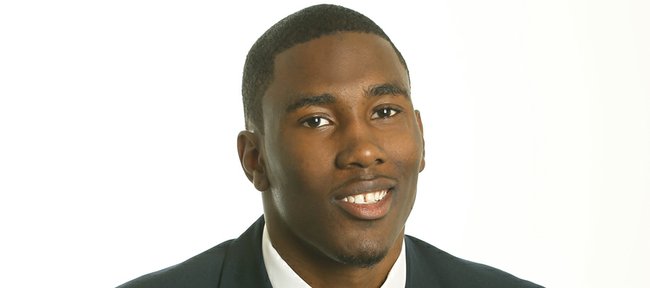 Kansas University freshman basketball power forward Jamari Traylor has found a way to beat the heat during a brutally-hot July in his new college hometown.
The 6-foot-8, 216–pounder from IMG Academies in Bradenton, Fla., has been splitting his time taking summer school classes in air-conditioned classrooms on campus and working out in the Jayhawks' climate-controlled practice facility.
"For the most part, I'm in the gym with the twins. They are here all the time," Traylor said Wednesday in Allen Fieldhouse.
He was referring to Marcus and Markieff Morris, who have been in Lawrence off and on since the June 23 NBA Draft.
"Thomas (Robinson) is in here all the time. Cole (Aldrich) is in here, too. Anytime I get a chance to watch them, I will try to steal a couple moves here and there.
"It is really helpful playing against guys who have accomplished things like Cole and the twins," Traylor added. "Those guys really made a name for themselves in the Big 12. I look forward to playing here and hopefully I can do the same as well."
Traylor — who has attended the second session of summer school after working out at IMG Academies in June — has been impressed with KU junior-to-be Robinson.
"Thomas is a freak athlete. He is super strong," Traylor said of the 6-10, 240-pound Washington, D.C., native. "When we play against each other, he's not movable. He is a beast."
Traylor, who averaged 20 points, 12 rebounds and three blocks a game last year at IMG, "is physical," Robinson noted. "He plays hard. I kind of want to say he's similar to me. He's high energy. He's trying to dunk all the time."
Traylor is known as a guy who hustles all the time.
"His motor is similar to Thomas Robinson," KU coach Bill Self said. "He's an inner-city, tough Chicago kid that has bounce. He wants to be good. We think he'll be an immediate and major contributor for us."
Traylor flashed an infectious smile when asked about his rugged style of play.
"I played football growing up (in Chicago). It's probably why I got so tough," Traylor said. "I get a couple nicks and scratches everywhere," he added, showing off a nicked-up forearm. "I try to play as hard as I can all the time. I just know I've got to work hard for everything I've got. Every time I'm out there, I give it my all."
Traylor enters college without the burden of great expectations. He's Rivals.com's No. 141-ranked player in the Class of 2011.
"I don't think I have to prove anything to myself," he said, "but as far as everyone else, I think I do. I think I was ranked pretty low, but it is what it is. I started playing basketball really late (junior year of high school) so I probably didn't give everyone a good chance to look at me. I'll show 'em what I've got this year."
Traylor — he chose KU over Oklahoma State, Indiana and Texas Tech — said the adjustment to college life has been relatively easy. His roommate is former IMG teammate Christian Garrett.
"It's really good. I know Christian is a good guy. I don't have to worry about anything because I know we get along," Traylor said.
"It feels good to actually be here. I wanted to get a good head start on school, to get a good feel on how it'll be in the fall."
He has no complaints, not even about the scorching temperatures in town.
"It's super hot, man," Traylor said. "I lived in Florida last year. I'm kind of used to it now. I can deal with it. I'm excited, very thrilled to be here. Honestly I can't wait for the season to start."
AAU tournament: Tom Tietze's Kansas City Prep Invitational AAU tournament will be held today through Sunday at Mid America Sports Complex West, 20200 Johnson Drive in Shawnee. Conner Frankamp, a 6-foot guard from Wichita North, who recently committed to KU, will play for KC Pump and Run 16-year-olds in the 17-and-under Platinum Division. His first game is 6:15 p.m., today. KU target Mitch McGary's SYF Players team also is in the tourney. The first game is 5 p.m. today. For tournament information and schedules, go to the website tomtietzebasketball.net.
Europe an option: Marcus Morris of the Houston Rockets would consider playing in Europe this season in the event of a long NBA lockout, Morris' agent, Tony Dutt, tells myfoxhouston.com.
"It's intriguing. If the right offer came along, we would look at it," Dutt said. "We both agreed I would send a bunch of stuff to teams over there. We haven't received anything that makes sense at this point. There is nothing pending."
Dutt also represents former KU forward Markieff Morris, meaning the two could wind up on the same pro team after all. Markieff was a first-round pick of the Phoenix Suns.