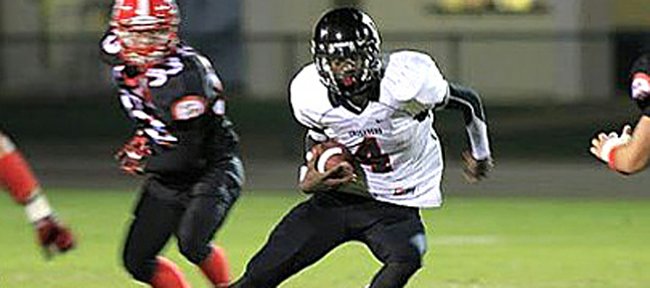 Earlier this summer, Kansas University recruiting coordinator and running backs coach Reggie Mitchell said the one position KU would try to sign in every class no matter how big or small was quarterback.
He wasn't kidding.
Wednesday, the Jayhawks picked up a pair of oral commitments from Class of 2012 quarterbacks Seth Russell, of Garland (Texas) High, and Bilal Marshall, of Dade Chrisitian High in Hialeah, Fla.
The pickups hammer home a couple of different points. First, there are no guarantees at quarterback, and it's worth adding a couple every year because you never know which ones are going to become Todd Reesings and which ones are going to become Mario Kinseys.
Second, Turner Gill's offense will be built around QBs who can move. Gill has said as much throughout his time in Lawrence, but, clearly, the ability to make plays both in the air and on the ground will be a must for the quarterbacks that will take snaps for the Jayhawks in the coming years.
Finally, while much has been made about Brock Berglund's enormous potential — and to a smaller extent Michael Cummings — nothing is going to be handed to the Highlands Ranch, Colo., freshman, who, at one point, was ranked as the 13th best dual-threat QB in the Class of 2011.
Both Russell and Marshall are three-star prospects, according to Rivals.com, with Russell ranked as the 26th best dual-threat QB in the country and Marshall slotted 13th on the same list.
Russell, 6-foot-4, 195 pounds, made up his mind Tuesday night and let the KU coaching staff in on his decision as soon as he could.
"I called this morning and told the coaches I was committing," he told JayhawkSlant.com. "I loved my visit there, and it felt like family to me. It was an awesome feeling to be around the coaches. I am blessed to be a part of an organization like that."
Word out of Texas is that Russell is one of those true diamond-in-the-rough types. An injury during his junior year of high school cost him half the year. It also kept him off the radar of several local schools that, no doubt, will still try to make a run at him.
Still, Russell chose KU over offers from North Texas and Wake Forest and heavy interest from Oklahoma and Texas A&M.;
Marshall, 6-3, 170, also committed Wednesday morning, citing the fact that he believed KU was the total package.
"They have a beautiful campus there," Marshall told Rivals. "The people are very nice, and it just had a different feel. The facilities are top of the line, and the dorm rooms are nice. It was the perfect fit for me."
True as that may be, another element unique to KU played a huge role.
"Coach (Robert) Wimberly is from here and grew up about five minutes from me," said Marshall of KU's safeties coach. "He told me has had his eyes on me for a long time. He's a great mentor and a friend. We could talk about anything and he knew what I was talking about."
Russell and Marshall become the fourth and fifth players in the Class of 2012 to commit to KU. They join Arkansas athlete Derek Keaton, Blue Valley West offensive lineman Brian Beckmann and Ft. Lauderdale cornerback Daniel Gray.
Assuming all five sign with the Jayhawks, the Jayhawks are down to eight scholarships remaining in the Class of 2012. which could jump to nine if the coaches elect to use the scholarship they gained back by the departure of Wichita running back Dreamius Smith, who was ruled ineligible.