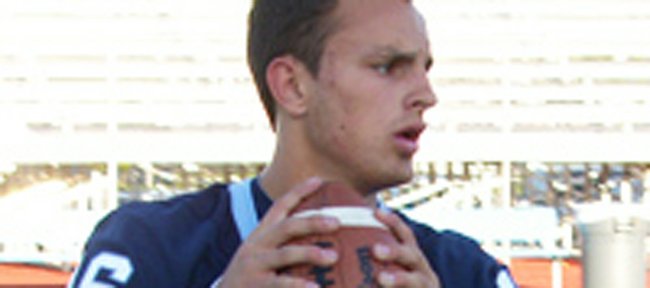 Court officials confirmed Thursday afternoon that Kansas University quarterback Brock Berglund, a freshman from Highlands Ranch, Colo., who has been charged with third-degree assault in his home state, has a court appearance scheduled for Monday in Castle Rock, Colo.
The appearance will be the second in this case for Berglund, a 6-foot-4, 205-pound, dual-threat QB who signed with KU in February and, according to court documents, was arraigned June 24.
Berglund, 18, allegedly was involved in an altercation April 9, in which he was said to have thrown a punch at another 18-year-old male. The Jayhawks held their sixth practice of the spring that same day.
Through a statement from his attorney, released Thursday, Berglund denied the accusations.
"Brock Berglund adamantly denies the allegation that he committed this misdemeanor assault," read the statement, which was released by attorney Kevin McGreevy, of the law firm Ridley, McGreevy & Winocur P.C. "He will not be making any further statement to the media, but rather will resolve this matter through the court system."
Requests for a copy of the police report were turned down by the Douglas County Sheriff's Office because the case remains open.
Though the alleged incident occurred in April, Berglund originally left Lawrence in early March because of what KU coach Turner Gill deemed "personal circumstances."
Multiple sources have confirmed to the Journal-World that Berglund initially left campus because he was homesick.
Players are scheduled to report for preseason camp Aug. 3.
Talib likely to stay with Tampa
There are indications the NFL lockout might be coming to an end.
When it is, one former Jayhawk whose future was cloudy at best heading into the offseason seems to be in good shape to remain with his team.
Fourth-year pro Aqib Talib, last year's defensive back of the year according to the NFL Alumni Association, seems poised to rejoin the Tampa Bay Buccaneers despite serious legal trouble in which Talib was charged with aggravated assault with a deadly weapon in a domestic incident in Texas last March.
Jason La Canfora, an NFL Network Insider, is reporting that sources told him the Bucs had not made a decision about what to do with Talib, had no timetable to decide and expected the former first-round pick (20th overall in 2008) to be with the team when the lockout ends and training camp opens.
When the news of Talib's run-in with the law originally broke, it was reported that Tampa Bay was planning to release Talib. However, because all official league business has been put on hold since the lockout went into effect more than 100 days ago, Talib has remained on Tampa's roster and likely will stay there.
Although his future on the field seems stable, Talib, 25, remains in hot water off of it. His trial is scheduled for March, and he'll face second-degree felony charges, punishable by a prison term of two to 20 years. He currently is out of jail on $25,000 bond and has been seen at several players-only offseason workouts.
Freshman impress
Though most of them have been on campus for a little more than a month, the incoming freshmen already have impressed some of KU's upperclassmen.
Senior receiver Daymond Patterson, a serious candidate to be named one of KU's captains this fall, had this to say about the freshmen on his Twitter account earlier this week:
"This freshman class is by far the most talented we had since I been here!!! And by far the hard working freshman class!!! #KUinGoodHands"
The Class of 2011 is one of the largest incoming classes KU has fielded in years. KU signed 27 players back on signing day in February, and it seems as if 25 of those will make it to preseason camp, with only offensive lineman Phil Ford and running back Dreamius Smith heading elsewhere. Both players will spend 2011 at junior colleges after failing to qualify academically.
Highlighting the incoming class are four-star running backs Darrian Miller, of Blue Springs, Mo., and Anthony Pierson, of East St. Louis, Ill. Both should be in the mix for playing time this fall.
Other newcomers who have impressed coaches and teammates this summer include: Olathe defensive backs Adonis Saunders and Victor Simmons; Killeen, Texas, quarterback Michael Cummings; Overland Park offensive lineman Dylan Admire; and Grapevine, Texas, place kicker Alex Mueller.
Kickoff rallies set for next week
KU coach Turner Gill, legendary running back Gale Sayers and new athletic director Sheahon Zenger will be featured guests at a pair of KU football kickoff rallies next week in Wichita and Topeka.
The first will take place from 5:30-7:30 p.m. on July 28 at Larry Buds in Wichita. More information can be found at www.kualumni.org/wichitakansasjayhawks.
Topeka will host its version of the kickoff rally at 5:30 p.m. on July 31 at the Fairlawn Mall. More info about that event can be found at www.topekajayhawkclub.org.
Several other similar events are scheduled for August in both the Kansas City and Lawrence areas.