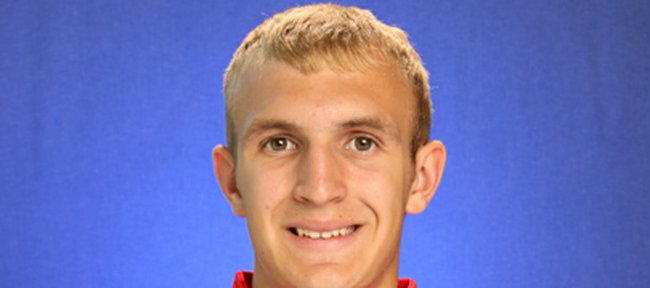 Wichita North junior-to-be Conner Frankamp's 16th birthday celebration Saturday night consisted of ...
• attending "Harry Potter and the Deathly Hallows, Part 2" with parents, Karen and Marty;
• dining with his loved ones at "Freddy's Frozen Custard and Steakburgers;"
• and, oh, yes, orally committing to play basketball at Kansas University.
"It was probably my best birthday ever," said Frankamp, a 6-foot-1, 160-pound point guard. He received a scholarship offer from Jayhawk coach Bill Self at the conclusion of his June 30 unofficial visit to KU.
"It's crazy. It really is a dream come true. I am a pretty big Kansas fan. I have been my whole life. I'm just really excited to be going there," added Frankamp, who averaged 27.2 points, 4.2 rebounds, 3.2 assists and 1.8 steals per game his sophomore season at North.
Frankamp phoned Self with the good news Saturday night while KU's ninth-year coach was attending a surprise 50th-wedding anniversary party for Self's parents in Oklahoma.
"Coach Self said he's really happy to have me and said I've been playing really well," said Frankamp, who has had a stellar summer for KC Pump N Run after averaging 8.6 points and 3.6 assists for the gold-medal-winning United States team at the FIBA Americas U16 Championships in Cancun.
Frankamp — he scored a Wichita City League-record 52 points last season in an 87-81 double-overtime loss to Wichita Northwest — chose KU over Oklahoma, Texas, UCLA, Boston College, Kansas State, Missouri, Wichita State and others.
It's believed Rivals.com's No. 65-rated player in the Class of 2013 would have received many offers in the months to come.
"It's been my dream my whole life. I might as well get it over with, go ahead and do it," Frankamp said of his reason for committing halfway through his high school career. "I used to follow (former KU/current NBA guard) Kirk Hinrich a lot. He was probably one of my favorite players. I've always liked the team in general, the players and coaches."
At this stage of his development, Frankamp is best known for his ability to shoot — and score.
The slender guard, who, at the age of 5 scored 18 points in his first-ever Biddy Basketball League game, scored 25 points as a high school freshman in his Wichita City League debut (against state champion Heights). As a sophomore, North's leading scorer hit 52 percent of his two-point tries, 46 percent of his threes and 89 percent of his free throws.
"He was playing — and shooting — when he was 2, 3 years old," said Frankamp's dad, Marty, who is Wichita North's junior varsity coach. "I think he's obviously a really good shooter. He can get his shot any time he wants. He's getting better on defense. As he gets stronger, he gets better.
"I think he's actually a better passer than scorer, (but) he has to score so much for us, that's what people know him as. I think he's an all-around guard who can play the 1 or the 2. He obviously has to get bigger and stronger and work on his defense. Most kids that are younger need to work on that."
Frankamp works with a personal strength and conditioning coach — Marty's former basketball teammate at Coffeyville Community College, Roy Birch.
Marty, meanwhile, is Conner's personal hoops coach in the gym.
On most days, the goal is for Conner to make between 300 and 400 shots before hitting the showers.
"I think to be as good as you can be, you have to put in extra work," Conner Frankamp said. "I have a lot to improve on. I have to keep working hard on everything."
He's happy to do that while hoping to lead North to a state title or two the next two seasons.
Then it's off to his favorite university.
"This is a relief to have a dream come true and just happiness that it is actually happening," Frankamp said.
This, that
Frankamp has had a basketball in his hands a long time. "Ever since I could walk, I grew up loving it," he said of basketball. "I practice every day to see where it takes me." ... In discussing his 52-point game, he said: "It was pretty crazy, surreal. It would have been a lot better if we won." ... Frankamp was tempted to commit to KU on his unofficial visit. "When I left campus, I was pretty sure I was going to go there. Just being in there (Allen Fieldhouse) is amazing. It seemed like the place for me to be. Coach Self is a great guy, great coach as well. He knows how to win and I think that is very important in determining where I want to go." ... Conner's older brother, Kevin, played at both Wichita Trinity Academy and Wichita North. ... The Frankamps will officially celebrate Conner's commitment at dinner tonight out on the town. "We usually go to Olive Garden or P.F. Chang's or somewhere like that. Conner was kind of nervous (Saturday before calling Self) and not very hungry so we went to Freddy's. We'll probably go out (tonight) ... now he can relax a bit," his dad said ... Frankamp attended KU's Elite camp two summers ago.