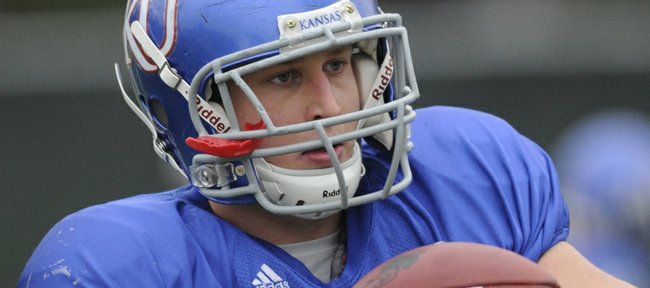 For two straight springs, there has been one guy on the Kansas University football team whose name would pop up just about every time KU coach Turner Gill was asked by the media which players stood out to him the most.
That player is senior tight end Tim Biere.
Athletic, experienced, intelligent and talented, Biere has been a solid contributor for the Jayhawks in the passing game during the past couple of seasons.
Last year, he led KU in touchdown receptions, with four, and also was fourth on the team with 228 yards and tied for third with 19 catches.
It wasn't necessarily his production that made Biere's name pop to the top of Gill's list. It was more because of his all-around effort and the way he went about his business.
"Tim Biere has stood out from a consistency standpoint," Gill said after one spring practice. "He has a good time blocking and catching the football. He is playing with a passion, and that is really what I like to see."
That should not come as much of a surprise since that's exactly what Biere is looking to contribute during his final season with the team.
"I just hope to provide some leadership and have a strong year," he said. "I've been here for a while, so, going into my last season, I should know what's going to go on out there and be really comfortable. I want to have a strong senior season."
One thing that could make that a likely scenario is the presence of red-shirt freshman Jimmay Mundine, a player who stood out last season on the scout team and has coaches buzzing about his impact this fall.
Mundine's potential to make big plays should allow Biere to concentrate more on moving the chains and blocking, and, together, the two should provide KU with a nice combination at one of football's most overlooked positions.
"Jimmay brings some athleticism and a little bit of excitement to the position," Biere said. "He'll catch the ball, and you'll wonder what he's doing out there, and then he'll make great plays and shake everyone and score touchdowns."
It's that kind of potential that led to Mundine landing at the top of the Journal-World and KUSports.com's rankings of the team's tight ends, the fifth in a summer position series that examines each group.
Here's a look at the individual breakdown:
Matt Tait's list
Jimmay Mundine: There's a reason Gill talked about this guy a lot in the offseason. He's incredibly talented. At one point, coaches were brainstorming guaranteed ways to get the ball into his hands.

Tim Biere: Rock solid and loaded with experience. A guy every team could use.

Ted McNulty: Has been one of the hardest workers on the team this summer. With a coach like Gill, that usually leads to playing time.

AJ Steward: Seems solid in running formations but probably won't contribute much to the passing game.

Trent Smiley: Highly touted out of high school, red-shirt freshman will have a shot at regular playing time.
Tom Keegan's list
Jimmay Mundine: Has chance to become biggest play-maker in the program.

Tim Biere: Does it all well.

Ted McNulty: Embraces dirty work.

Trent Smiley: Always keep an eye on athletes who earn scout, er, compete team player-of-the-week honors.

AJ Steward: Here's a plus; he's an emergency quarterback.
Jesse Newell's list
Tim Biere: KU needs more out of him this season, but clearly he's the best of the bunch.

Jimmay Mundine: Has a thick body and made good catches in traffic during spring game, but tape shows his blocking could still improve.

AJ Steward: Former QB never has seemed to get comfortable at WR/TE. Wondering if he'll be used creatively in Wildcat formations.

Ted McNulty: Had one catch in 2010 and one catch in the spring game.

Trent Smiley: With three seniors ahead of him, red-shirt freshman should be eyeing plenty of playing time in 2012.
Journal-World Consensus Top 5 Tight Ends
Five points awarded for first, four points for second, three points for third, two points for fourth and one point for fifth.
Jimmay Mundine (14)

Tim Biere (13)

Ted McNulty (8)

AJ Steward (6)

Trent Smiley (4)