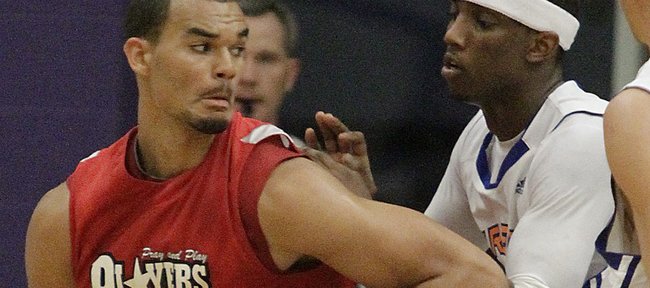 For the second straight summer, Wichita Heights senior-to-be Perry Ellis is drawing a lot of attention on the July recruiting circuit.
Coaches from Kansas University attended each and every one of Ellis' Pray and Play Players' games (in a nine-day span) at the adidas Invitational in Indianapolis, Summer Jam in Milwaukee and King James Showcase in Chicago.
Assistant coach Danny Manning attended all 16 games, while head coach Bill Self was on hand for eight. Assistants Joe Dooley and Kurtis Townsend were in the gym for several games, as well.
"They told us they'd be following Perry like last year (so) we weren't surprised," Fonda Ellis, mother of Rivals.com's No. 19-rated prospect in the Class of 2012, said Thursday.
"Having coach Self at so many was impressive," Fonda added.
It's pretty clear KU's coaches, who also scouted almost all of Ellis' games last summer, have made it a priority to sign the 6-foot-8 forward, who averaged 22.1 points, 7.9 rebounds and 1.8 assists a game for Heights a year ago.
Ellis, who is planning on making five official visits this summer and fall, has a final list of KU, Memphis, Kentucky, Duke, Kansas State, Oklahoma and Wichita State.
He has made unofficials to all of his finalists except Duke.
"It's going to be tough (picking a school)," Ellis told Catsillustrated.com. "It'll just come through my mind where I really, truly believe that I belong. Just being comfortable is the big thing for me."
Other seniors on KU's Class of 2012 recruiting wish list include Kaleb Tarczewski, 7-0, 220, St. Mark's High, Southborough, Mass.; Shabazz Muhammad, 6-5, 190, Bishop Gorman, Las Vegas; Nino Jackson, 6-2, 175, Ardmore (Okla.) High; J'Mychal Reese, 6-1, 170, Bryan (Texas) High; Marcus Smart, 6-4, Marcus High, Flower Mound, Texas; Mitch McGary, 6-10, Brewster Academy, Wolfeboro, N.H.; Landen Lucas, 6-8, 240, Findlay Prep, Henderson, Nev.; Willie Cauley, 6-10, Olathe Northwest; Robert Upshaw, 6-11, 235, San Joaquin Memorial High, Fresno, Calif.; Winston Shepard, 6-8, Findlay Prep, Henderson, Nev; Christian Sanders, 6-3, 170, St. Thomas High, Houston; Brandon Ashley, 6-8, 225, Findlay Prep, Henderson, Nev.; Archie Goodwin, 6-4, 180, Sylvan Hills High, Little Rock, Ark.; Adam Woodbury, 7-0, 230, East High, Sioux City, Iowa; T.J. Warren, 6-7, 200, Brewster Academy, Wolfeboro, N.H.; Shaquille Cleare, 6-9, 285, center, Village School, Houston.
KU will have a minimum of three scholarships to give this school year, four if Thomas Robinson heads to the NBA after his junior season. The Jayhawks have already awarded a scholarship to Zach Peters, 6-9, 235 from Prestonwood Christian High in Plano, Texas. Peters is not playing on the summer AAU circuit.
After a week break, the recruiting evaluation period resumes from July 22-31.
Dougherty funeral today: The funeral for former Kansas University assistant basketball coach Cornelius Aaron "Neil" Dougherty is scheduled for 11 a.m. today at Sacred Heart Church, 1401 2nd, Ave., Leavenworth, 66048-3375. In lieu of flowers, the family encourages memorial contributions be made in Dougherty's name to the H.O.P.E Farm in Fort Worth, Texas. Contributions can be made online at http://www.hopefarminc.org/donate/ or via mail at 865 E. Ramsey Ave., Fort Worth, Texas, 76104. Dougherty, 50, died on July 5 while jogging in Indianapolis, where he worked for iHoops, a joint venture between the NBA and NCAA that promotes youth basketball.