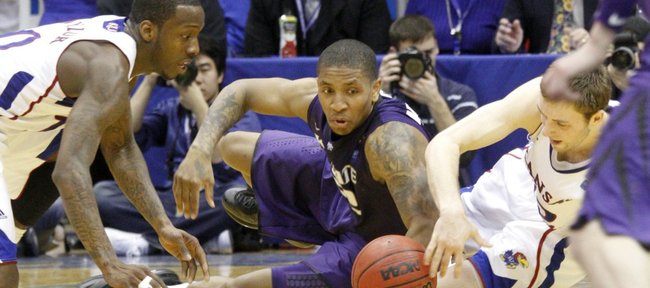 In the postgame news conference, Kansas State coach Frank Martin was asked for something his team could learn from Saturday's 90-66 loss to Kansas University.
"The importance of aspirin," Martin said.
The Wildcats coach wasn't the only one feeling the pain after KSU's worst loss to KU since 2007.
Senior guard Jacob Pullen said the contest was "up there" in his ranking of worst losses at KSU.
"I thought it was a dunk contest for a while," Pullen said. "I thought we had stopped playing and just started watching them dunk."
KU's 61.8 field-goal percentage was the highest allowed by KSU this season.
"This year, we just ... we can't guard," Pullen said. "We give up easy buckets. We give up layups."
Most of KU's offensive production came from inside, as the Jayhawks scored 48 points in the paint. KU forwards Markieff Morris, Marcus Morris, Thomas Robinson and Mario Little combined for 53 points on 22-for-30 shooting (73.3 percent).
"It didn't look too good, really, for our bigs today," KSU sophomore guard Rodney McGruder said.
KSU played the entire second half without preseason first-team All-Big 12 selection Curtis Kelly, and Martin refused to comment on why the 6-foot-8 senior forward didn't make it in.
The Wildcats also were miserable offensively in the first half. KSU shot just 7-for-36 before halftime (19.4 percent), its worst shooting effort in a first half this season.
Pullen said there were even instances coming out of timeouts when the Wildcats didn't know which play they were running.
KSU started slowly, falling behind 15-2 after the first 61⁄2 minutes.
"It's something that seems like it always happens when you walk into this building," Pullen said. "They usually don't miss in the beginning, and they capitalize off your turnovers and your bad shots. For us, it happened again."
Martin also sensed another pattern with his team's trips to Lawrence.
"I told (KU coach) Bill (Self) I'd appreciate it if they stopped losing before we play here at Allen Fieldhouse," Martin said. "It always does that. Before we come here, they lose a game, and we always get the (ticked)-off version of Kansas."