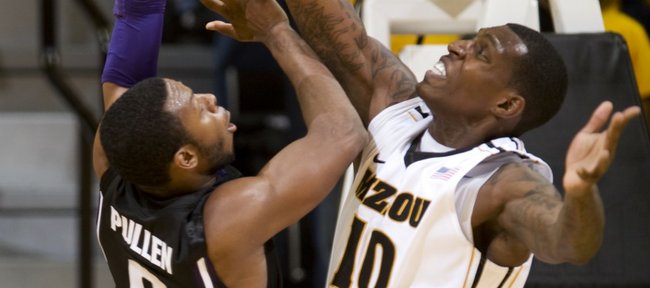 Columbia, Mo. — Ricardo Ratliffe was an eighth-grader before he started playing competitive basketball. He has sure beefed up No. 11 Missouri's inside game as one of the top junior-college recruits.
The junior is averaging 12.8 points and seven rebounds since the Tigers (17-3, 3-2 Big 12) began conference play. He's been an intimidator at times with a pair of six-block games, the latest in Saturday night's rout of Iowa State, to go with a feisty offensive game around the lane.
"Other people noticed I was pretty good before I did," Ratliffe said Monday. "Some of my coaches and friends started telling me I'm getting really good really fast."
The 6-foot-8, 240-pound Ratliffe was so good during his two-year stint at Central Florida Community College that his jersey now hangs from the rafters. He averaged 27.4 points and 11.3 rebounds as a sophomore and with 855 points broke his own school record.
Rivals.com named Ratliffe the top junior-college recruit in the nation after his sophomore season.
This fall, he was named the Big 12 preseason newcomer of the year.
"I went from the best player in the country and now I'm just a good player in the country," Ratliffe said. "Coach A (Missouri coach Mike Anderson) always tells me if I keep working hard then I can become the player I was at that level on this level."
At Missouri, Ratliffe is averaging just under 26 minutes in the Tigers' up-tempo system.