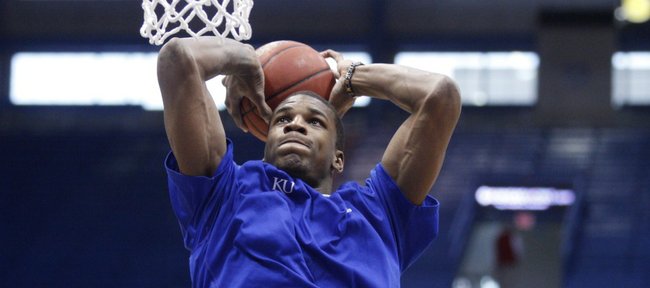 Kansas coach Bill Self said Monday morning that sophomore forward Thomas Robinson contacted him Monday and has now decided he will return to Washington, D.C. and will not attend Tuesday's KU-Colorado game in Boulder, Colo.
"He wants to go home to be with his sister," Self told the Journal-World Monday morning. "Yesterday he thought it would be best for him to stay and go with us, but he really feels he needs to be with his sister. He'll go back (to Washington, D.C.) today. The bottom line is Thomas needs to do what he needs to do, and we're all here to support him."
Thomas' mother, Lisa, died of an apparent heart attack on Friday.
Self expanded on the situation on Monday's Big 12 teleconference.
"He initially thought, 'I'll stay with the team.' He talked to his sister. She wants him home. She needs him home. He'll go home today," Self said.
"Depending on when the services are, more than likely Thursday or Friday, we will all attend that, whenever that is," he added of the team attending Lisa's funeral.
"He's been a rock. He's been a rock for all of us. It's been a pretty emotional time. He's done remarkably well considering everything that's going on in terms of the responsibility he's about to take on. But certainly it's a pretty trying time. It puts things in perspective. The world doesn't stop moving. We have to make the most of all situations. Certainly Thomas needs to be with his sister right now. We all feel that way," Self added.