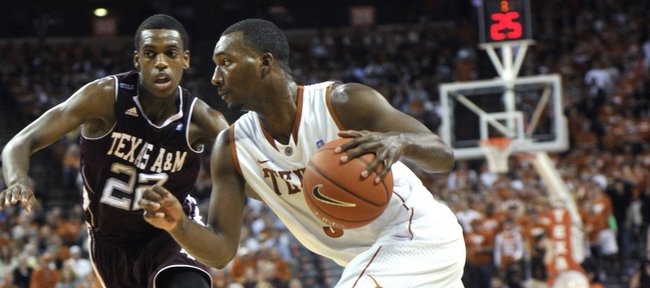 Upon leaving the New England Patriots because he didn't have absolute authority on personnel decisions, renowned NFL coach Bill Parcells said, "They want you to cook the dinner. At least they should let you shop for the groceries." College coaches get to shop for the groceries, shaping their rosters as they see fit.
When putting together college basketball teams, coaches don't simply recruit the best talent they can land and see where it fits. They have an idea of how they want their teams to look on the floor. Bill Self, coach of Kansas University's second-ranked basketball team, separates his pool of recruits into what he calls "bigs" and "guards." Ideally, he likes to play two bigs whose responsibilities are interchangeable. He has that in the Morris twins, Marcus and Markieff.
At least one of the three guards has to have point-guard skills, two of them must able to stretch the defense as three-point shooting threats, and one should be long enough to guard the opposing small forward. Self starts Tyshawn Taylor, Josh Selby and Tyrel Reed on the perimeter. Two (Taylor and Selby) have point-guard skills. Two (Selby and Reed) can stretch the defense. None of the three is long enough to be suited perfectly to guarding the small Texas forward the Jayhawks face today for the 3 p.m. tipoff in Allen Fieldhouse.
Jordan Hamilton, a 6-foot-7, 220-pound sophomore from Los Angeles, ranks third in the Big 12 in scoring (19.7), tied for eighth in rebounding (7.1), fifth in three-point percentage (.424) and first in the conference in terms of difficult matchups for KU.
"Hamilton is a hard matchup because we have a 6-foot-2 guy guarding him the way we play starting out," Self said, without specifying which of the three guards in the starting lineup will check him at the beginning. "It will be a tough deal for us, but Baylor was a lot bigger than us, too. There aren't going to be too many teams that we play against that we're bigger than across the board, moving forward."
At this point, Hamilton and Marcus Morris qualify as the front-runners for Big 12 Player of the Year honors. Today's game will determine the early-season favorite, and only one statistic will determine which player that is: the guy whose team scores more points.
In KU's three conference games, Marcus is averaging 24.7 points and 9.7 rebounds and shooting .711 from the field. It's possible he could guard Hamilton at times today.
Both players are scoring threats from down low and on the perimeter. Morris primarily is an inside scorer who is a bona fide three-point shooting threat. Hamilton shoots far more three-pointers, but is adept at abusing shorter defenders in the post as well.
Brady Morningstar, giving up three inches and 35 pounds, will get his turn on Hamilton. Morningstar popped a DVD of 100 made shots from Hamilton into his computer and gave them a look.
"It's good to study the tape, but I don't go way too in depth with it because he plays off how the defense plays him," Morningstar said.
And how will Morningstar play him?
"Contest his shots and hope that the Phog's with us," Morningstar said.