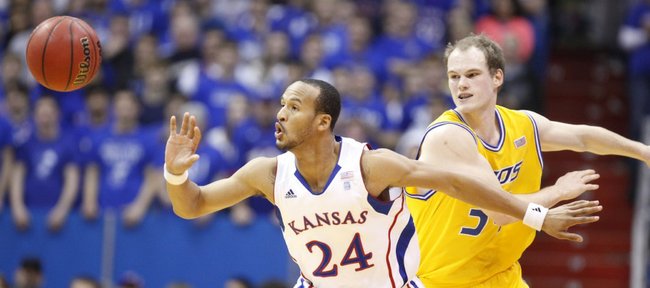 Kansas University sophomore guard Travis Releford, who has missed the last three games because of a left ankle sprain, practiced again Friday.
"He's about 70 percent. He'll be able to play, absolutely," KU coach Bill Self said of today's 3 p.m. meeting between No. 2 Kansas and No. 11 Texas at Allen Fieldhouse.
Streaking: KU takes a 69-game homecourt winning streak into today's game.
"We don't talk about it, so I don't know," Self said, asked if his players are highly protective of the streak. "In the back of their minds they know because you guys (media) ask them about it and it's a sense of pride for them without question. We are not playing Texas hoping to win so we can maintain a winning streak. We just want to play the game. That's all we talk about."
Emotion: Self was asked if the Jayhawks could be too fired up for today's game.
"With our guys I'm not worried about that too much. It's been the polar opposite," Self said, laughing. "They'll be excited to play. I thought the Baylor game (Monday's 85-65 win) was a perfect example of when a team is ready and at that magic level where focus and concentration and energy meet to give you the best chance. I hope it is the same way here."
Texas, ESPN talk: Self on Texas' new 20-year, $300 million dollar deal with ESPN to create its own television network:
"I don't know all the details except if you divide 300 by 20, it comes out to 15, which is a huge deal," Self said. "It forces other schools' hands to be as aggressive as they can to lessen that gap.
"Instead of all our schools sitting around and complaining, 'Well, that's not fair. They're getting 21 million plus 15 million. That's 36 (million dollars), and we're only getting 18 (million dollars).' Hey, that's not the way you look at it. The way you look at it is, 'What can we do to get more money ourselves?'
"To me, there's a window. I don't know if there's a nine-school network that can somehow be put together. I don't know if it puts pressure on individual schools to do some things, but there's money out there to be had. Instead of whining about them doing their job, we (each) should be very aggressive in helping our respective school do theirs.
"I think it's a challenge to the presidents. I think it's a challenge to the athletic directors, but it's one that I think will raise the level for everybody else. It's amazing to me when one school does really well, other schools have to work their butts off to narrow that gap. You see that happen across America all the time. I think it will happen with our league, too."
Barnes on expectations: UT coach Rick Barnes asked if there's any particular area in which his team, unranked to start the season, has exceeded expectations: "One thing we've done for the most part is that when we come back from games and we haven't done something well, and we talk about those things, we've been able to do that (improve in that area)," Barnes said. "Our guys understand we have work to do, need to continue to work. They've been good coming in day in and day out trying to get better."
Morris reflects: Marcus Morris on KU's 80-68 win over UT last year in Austin: "They were going through a lot last year when we went down there. I mean not off the court stuff, but like losing," Morris said. "We were getting them at a vulnerable time, so if we came out and gave them our best shot they were more likely going to lay down, which they did.
"It was definitely good to go down there and beat them at their place. I think they've got a much better team. They can get up and down the floor a little quicker than last year. We have to try to keep them off the boards. They crash and have big wings.
"They play the post straight, so I mean it's going to be 1-on-1 down on the post. I think that's to our advantage because we've got guys who can put good post moves on 'em. They trap some, play a little bit of zone. It's going to be good to see what they throw at us."
Daniels update: The rumor mill was churning regarding DeAndre Daniels, a 6-8 senior forward from IMG Academies in Bradenton, Fla., on Friday, first day of spring semester on KU's campus. Students on various message boards indicated Daniels' name was showing up in KU's e-mail system, ostensibly meaning he's set to attend classes this semester. On Friday there was no word from Daniels' camp on whether he'll attend KU, Texas or Kentucky, or remain at IMG until the summer. Various recruiting analysts continue to believe Daniels will ultimately be a Jayhawk.