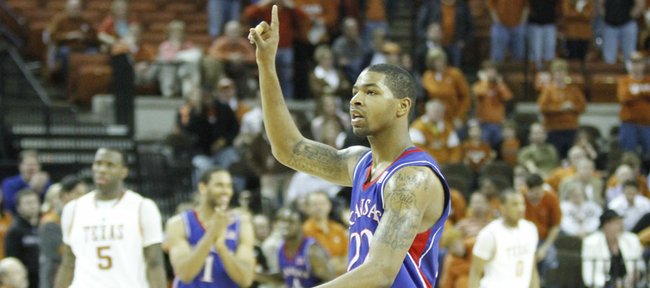 Videos
Bill Self weekly press conference, Jan. 21, 2011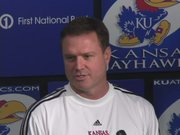 Kansas head men's basketball coach Bill Self addressed the media at his weekly press conference Friday, Jan. 21, 2011 at Allen Fieldhouse.
Kansas and Texas have played some hotly-contested, wildly-entertaining basketball games since the 1996-97 season — the season the Big Eight Conference became the Big 12.
Have there been enough instant classics to consider this a rivalry?
"Definitely. In my eyes it's definitely a rivalry," KU junior forward Marcus Morris said Friday — the eve of today's showdown between the No. 2-ranked Jayhawks (18-0, 3-0) and No. 10-rated Longhorns (15-3, 3-0).
Tip between the only two remaining unbeatens in the Big 12 is 3 p.m., in Allen Fieldhouse with a live telecast on CBS.
"I can't wait because I feel a lot of people think they are going to come in here and just beat us because they've beaten some top teams. But we've got a different outlook on things," Morris said.
Morris is 2-0 against the Longhorns, who have won just five of 18 games vs. KU since the formation of the league. KU has won three consecutive games and six of seven versus Texas. The Longhorns are 0-7 in Allen Fieldhouse in Big 12 action.
Five of the last six KU-UT battles have been decided by 10 points or less.
"For sure," KU senior guard Tyrel Reed said, asked if he considers KU-UT a budding rivalry. "I think since I've been here, every game we've played against Texas has been a good game. They've always had good teams, great players, a lot of NBA players. It's a fun game to play in."
KU coach Bill Self is 7-6 against Texas overall — 7-4 as leader of the Jayhawks.
"There are a lot of good teams in our league and a lot of good rivalries. This has kind of emerged as a special rivalry because we have played quite a bit more than one time a year lately. It makes for pretty good TV, usually," Self said.
The two teams have met in three of the last five Big 12 tournament title games, with KU winning all three — 80-68 in 2006 in Dallas; 88-84 in overtime in 2007 in Oklahoma City and 84-74 in 2008 in Kansas City.
The tourney title in '07 followed KU's 90-86 victory a week earlier in Allen Fieldhouse.
Those two games were two of the most memorable in the Self era.
In the first meeting, current NBA superstar Kevin Durant scored 25 points the first half off 10-of-14 shooting (4-5 from three) as the Longhorns led, 54-42, at the break.
"We couldn't guard him," Self said. "He was making NBA plays against some (KU) guys that are playing in the league. I turned to Danny (Manning, assistant) and said 'What are we gonna do?' He said, 'Heck, I don't know. That's a bad boy and I mean maybe as bad as has played on the fieldhouse floor in many many years.'
"He was just incredible that day. That was one of the best games. The coolest thing to me," Self added, "was we won the game, but what was really cool to me was that a kid could sprain his ankle, come back into the game and our fans cheered for him when he comes back to the court. It's such an element of class because our fans knew they were witnessing something special that day and it was something they'd never see again, because there was no way that kid would be a two- or three-year (college) guy."
Sore ankle and all, Durant finished with 32 points, then picked up where he left off against KU in Kansas City.
"When we played in the Big 12 tournament, they had us down, 32-10, with eight minutes left in the first half and Durant had 22. He had us down, 22-10 (by himself). To me that was even more impressive performance in that game than the fieldhouse. He was just unbelievable," Self said.
Durant, who plays for the Oklahoma City Thunder, finished with 37 points for the Longhorns. Many came against KU's Brandon Rush, now with the Indiana Pacers.
"I think I said, 'Try guarding him or something,''' Self said of advice to Rush. "He said, 'I'm trying as hard as I can,''' Self added, laughing at the memory.
As far as the present ... Texas enters on the heels of Wednesday's 81-60 victory over Texas A&M; in Austin. Jordan Hamilton and Tristan Thompson scored 27 and 18 points, respectively. That victory snapped the No. 11-ranked Aggies' 13-game winning streak.
Texas has won at North Carolina and Michigan State and also defeated Illinois and Arkansas. The three losses are to UConn, Pittsburgh and USC.
"We anticipate Texas coming in and playing well. We anticipate playing well," Self said. "We think it's going to be a great game just like they usually are when we hook up with them."
Soph guard/forward Hamilton averages 19.7 points and 7.1 rebounds per game. Frosh forward Thompson is next in line in scoring (13.1) and leads the Longhorns in rebounding (7.7), blocks (37) and steals (21).
Senior forward Gary Johnson averages 12.1 points and 7.1 boards. Frosh guard Cory Joseph averages 11.2 points with 58 assists against 28 turnovers.
Soph guard J'Covan Brown, who averages 9.1 ppg, scored 28 in the Longhorns' 80-68 loss to KU last year in Austin. That UT team went 24-10 overall, 9-7 in the league.
"They guard," Self said. "To me, you've got to do something with Thompson and Johnson inside and still be able (to guard perimeter). They bring a guy off the bench who got 26 off us the second half last year. That means they are pretty good.
"I like their guards," Self added. "From the outside looking in, there's one guy that has allowed the other pieces to fit. I think Joseph is that guy. He allows Balbay (Dogus, 4.1 ppg) to be Balbay and Jordan be Jordan and J'Covan be J'Covan. He's the one piece that is there because he can stretch it, play the point, guard a point or a two (guard) because he's big enough, strong enough to do a lot of things. It's always nice to have two guys out there that can always stretch it (defense). Texas always will have a minimum of two guys out there that can stretch it."
The oddsmakers have listed KU as a seven-point favorite today. The combatants wouldn't be surprised if it's much closer than that.
"There's certain games a year that you look at the schedule and say, 'This one's going to be fun. This one's going to be exciting.' I think this is one of them again," KU senior Brady Morningstar said. "They are always good. We've always been pretty good. It's a good game, two good schools, two good universities," he added, describing the makeup of a good "rivalry."