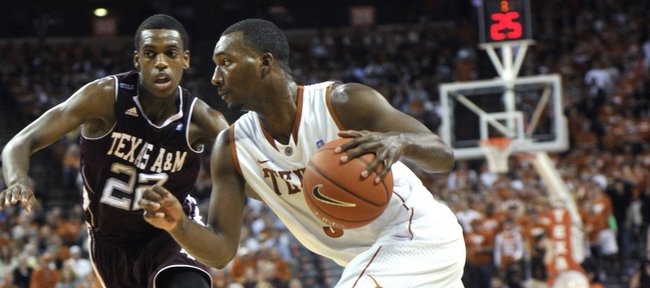 No. 10 Texas 81, No. 11 Texas A&M; 60
Austin, Texas — Jordan Hamilton scored 27 points, and Texas snapped Texas A&M;'s 13-game winning streak on Wednesday night.
Freshman Tristan Thompson added 18 points for the Longhorns (15-3, 3-0 Big 12) before limping off due to a leg cramp with four minutes left in the first meeting of the rivals this season.
Khris Middleton scored 16 points for Texas A&M; (16-2, 3-1), which hasn't won in Austin since 2002 and never led in this one.
The Aggies had not lost since a 67-65 loss to Boston College on Nov. 25.
Texas shot 58 percent from the field and the worst free throw shooting team in the Big 12 was 19-of-22 from the line.
Oklahoma State 96, Iowa State 87, OT
Stillwater, Okla. — Jean-Paul Olukemi scored 29 points, leading four double-figure scorers for Oklahoma State.
Olukemi hit 12 of 12 from the foul line, and his three-point play in the final minute helped the Cowboys force overtime.
Keiton Page, who scored 19 points, hit the game-tying three-pointer with 23 seconds left. Marshall Moses had 18 points and 10 rebounds, while Roger Franklin scored 13 for the Cowboys (14-4, 2-2 Big 12).