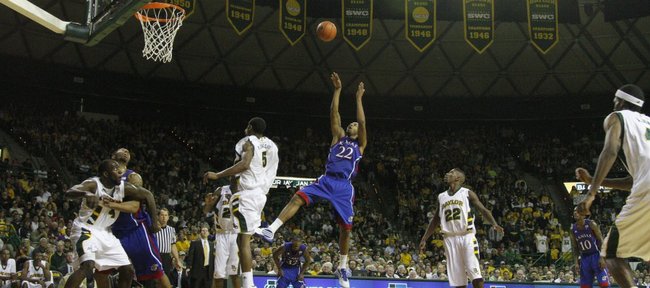 KU vs. Baylor
Podcast episode
Kansas coach Bill Self talks to reporters following the Jayhawks' 85-65 victory over Baylor on Jan. 17, 2011.
Waco, Texas — It's tough to find the right words to describe the ultra-productive, utterly dominant play of Kansas University's basketball team in the first half of Monday's 85-65 victory at Baylor.
So let the No. 2-ranked Jayhawks (18-0 overall, 3-0 Big 12) paint the picture of a half in which they hit 79.3 percent of their shots in building a 53-32 lead over a Baylor team (12-5, 2-2) that had won 15 straight games in Ferrell Center.
"Beautiful. I don't think we could have played any better," freshman guard Josh Selby said of KU's best shooting half in the Bill Self era — the most accurate overall performance in a half since an 85-percent outing versus Missouri on Jan. 19, 1991, in Lawrence.
"I wouldn't say 'perfection,' but 'close to perfection,''' noted junior forward Marcus Morris, who hit six of seven first-half shots, for 13 points
His brother, Markieff, iced seven of seven shots for 15 points as KU knocked down 23 of 29 attempts and five of nine from three-point range in the first half.
"Efficient," chimed in head coach Bill Self, agreeing with a reporter who chose the word, "improbable."
"Very improbable, especially when the other team plays zone," Self added after KU shredded the Bears' 2-3 zone.
Self said his Jayhawks were "zoned in better than at any time this year."
Why?
Well, Marcus Morris said the Jayhawks were playing angry in response to Saturday's 63-60 victory over Nebraska.
The players, he said, felt the reaction amid KU nation was that the Jayhawks were fortunate to be undefeated and might be headed for a loss soon.
"I definitely feel we have something to prove every game," said Marcus, who finished with 25 points off 10-of-14 shooting while his brother had 19 points off 9-of-10 shooting. KU as a team finished at 62.5 percent to Baylor's 48.8 mark.
"I feel like nobody gives us credit. I feel those games that were close this year, people really thought we were supposed to lose those games. There was a lot of talk how we'd come down here and lose," Marcus added. "We keep those things to ourselves. We're a big family team. I love my guys. We go out and play hard every night."
It was speculated the Jayhawks also might have been upset in a pre-game video which showed highlights from Baylor's 55-7 football victory over KU last fall. The video also showed the end of KU's second-round NCAA Tournament loss to Northern Iowa while highlighting the fact Baylor made the Elite Eight.
"I didn't see that," Marcus Morris said. "Hey, there's only one Northern Iowa. I'm going to tell you that it's only going to happen once."
Finally, there was speculation the Jayhawks were upset at some BU student fans who yelled insults before the game and shouted things at the KU bench throughout.
Selby, who scored 12 points with three assists and three turnovers in 29 minutes, playfully spoke to one fan leaving the court at halftime. He uttered the words, "It's over," to the fan.
"I said that at halftime and after the game, too," Selby said with a smile. "It didn't upset me. I just wanted to keep my focus. Fans will always give me a hard time. It's over with. We played well to beat a good team tonight."
The Jayhawks led just 16-15 with 12:55 remaining in the first half, then played near-perfect ball the rest of the session.
KU officials said it marked KU's best shooting performance in a half in a road game at least since the 1989-90 season when in-depth records were starting to be kept.
"That was by far as well as we've played in a half," Self said. "In the second half (during which BU cut the gap to 12, getting no closer than that), when they went with that little 3/4 zone press, we were content to get it across instead of attacking.
"This might sound bad, but this is the most ready team that we've had play this year. Going through the locker room, our energy, all the guys on the same page, our focus. That's something we've struggled with. We even struggled with it in the second half, certainly for 20 minutes we had it."
KU was outscored 33-32 the second half.
Kansas will meet Texas in a 3 p.m. tipoff Saturday in Allen Fieldhouse.