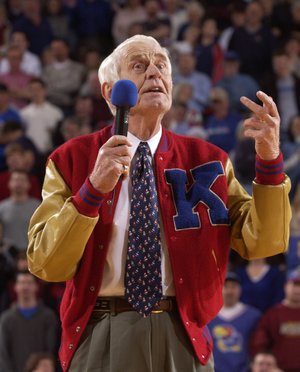 No Kansas University student athlete ever met Phog Allen's ultimate standard for excellence better than Howard Engleman, the multi-faceted former basketball All-American who died Wednesday at age 91.
Allen, the Jayhawk coaching immortal, often was asked to name his top players. His answer always was that he preferred to wait 15 or 20 years to find out what level of outstanding citizenry someone had reached. Then Allen would point out that there were so many from his stable thoroughbreds that there could be no final choice.
As for Engleman, Phog was always quick to declare that Howard was "among the very finest I've coached." Quite a tribute considering the first official basketball game Howard saw in his native Arkansas City was one he played in.
In addition to earning All-America honors as a 1940-41 senior, Engleman was KU's '41 scholastic honor man of the year. He was badly wounded while serving in the Navy in World War II. He later starred in AAU basketball despite his wounds, and earned a law degree while coaching the Jayhawk freshmen and, for a while, the varsity. From there he became one of the most devoted alumni supporters in KU history, serving as national president of the KU Alumni Association in 1953-54.
Along with all his legal professional achievements and KU activities, "Rope" Engleman was an outstanding golfer. That nickname resulted from his extremely curly, even wiry, blond hair.
He first was a standout on the 1940 Kansas team that reached the NCAA basketball finals in Kansas City. Then came a then-unheard-of scoring average of 16.1 points a game in 1941. Up to then, no Jayhawk ever had averaged better than 12.2 points.
He was horribly burned when a Japanese kamikaze plane hit his ship in the Pacific, and it took him a long time to recover. Yet he was able to wear special shoulder gear to let him enter AAU play and, as expected, starred in that realm.
As Jayhawk freshman coach ("I really needed that $300 a month for law school," he often joked), he was called upon to finish the 1946-47 season as head coach after Phog Allen encountered health problems. Rope's team won eight of its last 11 games.
Appropriately, his jersey was hung on the Allen Fieldhouse wall on March 1, 2003, along with all the other superstars. Proudly wearing his letter jacket, Engleman in his acceptance reminded adoring fans that he also was blessed with a tremendous sense of humor — with a standup-comedian grasp of an audience.
Engleman once read a Journal-World story about the "smallest basketball crowd in KU history" against Hawaii Loa on Oahu in 1990. He politely begged to differ.
"I was at Missouri in old Brewer Fieldhouse when taking Phog's place in 1947. There had been a flu epidemic in Columbia but instead of delaying the game they decided to play it with no spectators allowed," Engleman recalled. "The only people there were the teams, officials and MU football players to see nobody got in.
"We won the game (48-38) and I remember Otto Schnellbacher getting fouled. He stepped to the line, and an MU footballer (against whom two-sport star Schnellbacher had competed on the gridiron) yelled, 'Hey, Schnelly! Is that your nose or a banana you're eating?' Otto gave him the finger, spitefully made both free throws and we won. But Otto wasn't out of line because there were no women in the hall. What precious memories," noted the socially correct Engleman.
With his superb intellect, Engleman was noted as a "thinking man's basketball player."
"Howard was supremely alert," said the late Dick Harp, a teammate on the 1940 NCAA title team. "He was always thinking about the next play, and what might happen after that. He was as outstanding as any player I ever knew." Harp later was head coach at Kansas, and Engleman was a staunch backer.
Engleman was never one to consider himself the stalwart others did and admitted he fell short on the court in some activities. "I wasn't too good on defense and Phog and the others had to hide me now and then. I didn't play as much at others in the big 1940 games because of my defense. I didn't work as hard on it as I should have and deserved my time on the bench."
Yet it was his shot that defeated Southern Cal in the national semifinals and propelled KU to the championship game, which Indiana won. Engleman was always quick to credit Bobby Allen, Phog's son and Engleman's KU teammate, with the pinpoint passes that helped him score as much as he did.
He often reflected on how "out of it" some athletes were in his heyday because there was no television coverage. "We had no idea Indiana was as good as it was and how they could fast-break. They had great players running out their ears and began running with the ball. We got a little lazy (and lost by 18 points)," he recalled. "Indiana threw long passes and fast-broke us to death. We had no way of knowing how good they really were."
Howard Engleman was the last living starter from that 1940 NCAA roster. The other four were John Kline, Dick Harp, Bobby Allen and Ralph Miller, who all became highly accomplished in their own right.
Phog Allen was always quick to include them all in his pantheon of great athletes-citizens whom he considered All-Americans in the strictest sense. They and Howard Engleman left high standards for the Jayhawks in the past 70 years or so to approximate at least if not exceed.