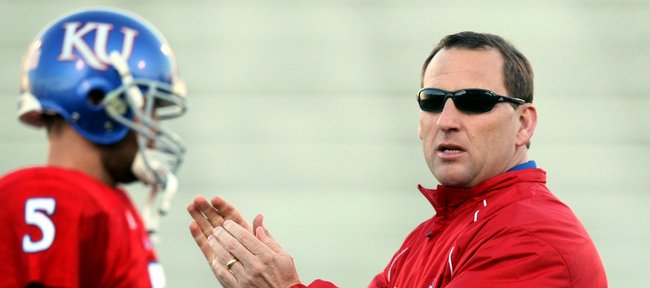 The man who once came to Kansas University to replace an outgoing wide-receivers coach has done it again.
KU football officials confirmed Friday that David Beaty, KU's wide receivers coach from 2008-09, will rejoin the Jayhawks in 2011.
Beaty will coach KU's receivers and hold the title of co-offensive coordinator.
"David has a great energy and a fantastic football mind," KU coach Turner Gill said. "We are excited to have coach Beaty and his family back with the Jayhawk football program."
Beaty's return to Kansas continues a cycle between two schools over the past five years. Before coming to KU to replace Tim Beck in 2008, Beaty was the receivers coach at Rice. Last year, Beaty was Rice's offensive coordinator.
Beaty, 40, comes to KU to replace Darrell Wyatt, who left Gill's staff after one season to take a similar job at Texas.
Though many in the program were sad to see Wyatt go, Gill said bringing Beaty in to replace him was huge, particularly for recruiting.
"He has an excellent reputation in the state of Texas as a coach and recruiter, according to the high school coaches there," Gill said.
Recruits stick with KU
Even though he's no longer at Kansas, a couple of Darrell Wyatt's top recruits said recently they're planning to stay committed to Kansas.
"Coach (Chuck) Long (KU's offensive coordinator) came and he watched me play basketball," Mesquite, Texas, wide receiver Jacorey Shepherd told Rivals.com's Jon Kirby last week. "I talked with him after the game and he was checking in to make sure everything was good. It was good to see them come right down and I know that coach Long and coach (Turner) Gill want me to be there."
Shepherd, a 5-foot-11, 170-pound wideout from Horn High, is a three-star prospect and was one of Wyatt's top recruits. So, too, was Dallas cornerback Kenneth Lynn, who just recently switched his commitment from Iowa State to Kansas.
Lynn also told Kirby he was still coming to KU, thanks in large part to a recent visit from cornerbacks coach Vic Shealy.
"Coach Shealy came in and said he wanted to make sure I knew that Kansas really wants me," Lynn said. "My high school coaches told me things like this happen all the time. I got a call from Iowa State and they wanted me to know they are still interested in me. I'm still looking at being a Jayhawk."
Both players have orally committed to Kansas and can sign their official letters of intent beginning Feb. 2.