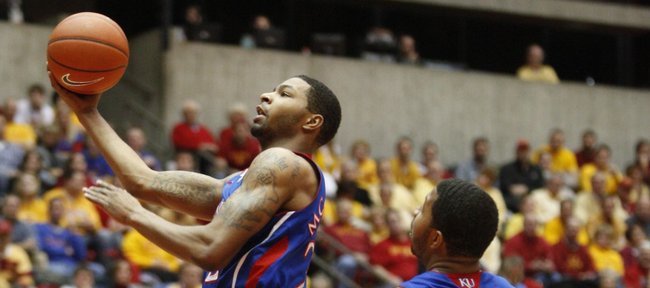 KU vs. Iowa State
Podcast episode
Kansas coach Bill Self talks to reporters following the Jayhawks' 84-79 victory over Iowa State on Jan. 13, 2011.
Ames, Iowa — This wasn't the night to fret that Kansas University's basketball team didn't deliver a convincing enough knockout punch to demoralize Iowa State, not the night to wonder when KU would sparkle from beginning to end and look for 40 minutes like the third-ranked team in the nation.
Basketball is supposed to be entertainment, right? And few things are as entertaining as watching a basketball player gifted in nearly every way play the game when his confidence hums and his emotions stay cool and his basketball brain fuels him to make one smart decision after another.
Marcus Morris, one of the nation's 30 midseason Wooden Award nominees, played like a first-team All-American in an 84-79 victory Wednesday night against Iowa State in Hilton Coliseum, totaling 33 points and 13 rebounds in just 27 minutes with just 15 shots from the field.
Elsewhere in the land of the elite, Duke was upset at Florida State, Ohio State won at Michigan by four points and the preseason favorite to win the Big 12, reeling Kansas State, lost at home to Colorado, where former KU player Tad Boyle has turned the Buffaloes into a confident herd in his first season coaching them.
Confidence is the best word to capture the way Iowa State is playing under first-year coach Fred Hoiberg, an Ames native, former Iowa State superstar and NBA three-point marksman. Starting with point guard Diante Garrett, Hoiberg changed the minds of Iowa State's players, convincing them they're better than they thought they were. Wisely, Hoiberg compensated for his lack of coaching experience by hiring Bobby Lutz, coming off of 12 seasons as the all-time winningest coach in the history of the University of Charlotte, as an assistant.
The revived Cyclones had the advantage of a stoked crowd driven to an especially giddy mood because former coach Johnny Orr was on hand for the revealing of his statue. Kansas was on the verge of putting the game away several times, but the Cyclones kept charging back and just might have pulled off the upset but that Marcus Morris wouldn't let it happen.
Put him anywhere on the floor and he's a triple-threat, a well-above-average passer, ballhandler and shooter. He showed all his skills, save for his three-point touch. He didn't attempt any of those because he knew he was quick enough to get around his defender to get a closer shot. Pump-fakes from straight away followed by relentless drives to the hoop, elbow jumpers, baseline turn-around jumpers, put-backs from the weak side, baseline drives and post-ups, Morris embodied the popular 21st-century basketball term "hard-to-guard."
"He's always been like that," said his twin, Markieff, of his brother being a triple-threat from anywhere on the floor. "He was able to show his versatility tonight because of the way they were guarding him."
Markieff pitched in with 17 points and 11 rebounds. At times, the twins were so active they created the illusion there were four Morris brothers on the floor.
"We played with more energy the last couple of games and practices," Markieff said of him and his twin. "We sat down and talked to coach, and we realized we do have a little extra boost we can give. And I feel like we're ready to do that now."
In 54 minutes, the twins combined for 50 points and 24 rebounds. That's a huge boost. Most Big 12 teams will bring better defense on the interior than Iowa State, but that doesn't diminish what the twins contributed and how smart they looked playing the game they so clearly love to play.