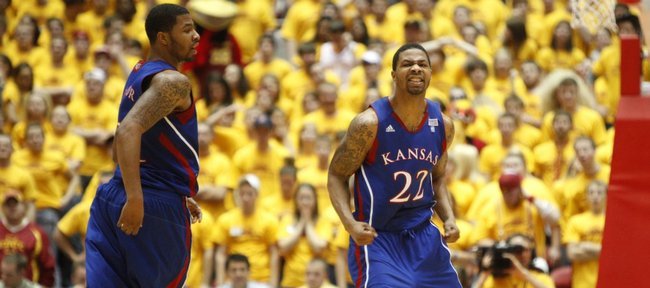 KU vs. Iowa State
Podcast episode
Kansas coach Bill Self talks to reporters following the Jayhawks' 84-79 victory over Iowa State on Jan. 13, 2011.
Ames, Iowa — Marcus Morris, who exploded for a career-high 33 points and grabbed a career-best 13 rebounds in Kansas University's Big 12 opener on Wednesday night, grinned when asked if he's planning on similar production each and every night during the conference season.
"I can try. I definitely can try," Morris said after his 22-point second-half outburst helped the Jayhawks (16-0, 1-0) outlast gritty Iowa State (13-4, 0-2), 84-79, in Hilton Coliseum.
"I personally think there will be games Kieff can get 30 and Selby can get 30," he added of Markieff Morris and Josh Selby, who scored 17 and 14 respectively Wednesday. "I had an on-night tonight. There's other players on my team who can do it, too."
On this night, it was Morris, Morris and more Morris.
"I just felt I had to take the game over," said the 6-foot-9 junior forward, who hit 11 of 15 shots and 11 of 14 free throws, surpassing his old career high of 26 points, set against Lehigh last season and Ohio earlier this season. He had 11 rebounds against Valparaiso back on Nov. 15.
"The shots were falling. I made my free throws tonight. My teammates kept going to me, and I was able to deliver."
Why the desire to take over on this night?
"Because the crowd was into it. I felt somebody had to step up," said Morris.
His 33 points were the most by a Jayhawk since Sherron Collins' 33 versus Cornell last season. It was the most points by a KU player in a conference game since Julian Wright hit for 33 at Missouri in February of 2007.
"I showed I'm a leader and put the load on my back," Morris said.
His second-half production came on a night the Jayhawks saw a 13-point first-half lead dip to one point 4 1/2 minutes into the second half and another 12-point lead dip to three down the stretch.
"I feel this is my year to step up. I feel I can do that. I never get into personal duels," he added, asked if he felt he had to outshine ISU's Diante Garrett, who scored 27 points off 11-of-25 shooting.
"Garrett was terrific, though. I had to congratulate him after the game. I didn't know he was that good of a player. He's great, and Vanderbeken (Jamie, 19 points, 4-for-10 from three), too. Iowa State is going to beat a lot of teams."
KU coach Bill Self marveled at Morris' performance.
"Marcus was great. It probably was his best game since he's been at KU," said Self, whose teams have won seven in a row in Ames. "Kieff was good, too. If he makes free throws (five of 11), he has a heck of a game. Those two get 50 points and 24 rebounds in 54 minutes. That's pretty good.
"But Marcus was spectacular tonight."
Self said, "no, no" when asked if he'd ever seen Marcus take over a game like that.
"He did it every way," Self said. "I don't think he made a three, but he made perimeter jumpers. He drove it. That's one thing we've been trying to get him to do is drive the bigs. He did a great job driving the bigs, making plays when the game was on the line.
"I don't think Marcus has been in rhythm until about a week ago. He played really well at Michigan, too. In November he was terrific. December, I don't think he ever got in rhythm. Since Christmas, he's played very well."
Self repeated a line from earlier this season when he said Marcus, "does more things than anybody else we've coached. When he plays with energy and passion, he's hard to guard. And he can defend, too.
"We haven't had anybody make threes, get it off the bounce, get it off the catch and go to the post like him. When he's geeked up and active, he can do so many things."
And he's having a blast, saying he "loves" his teammates and loves the potential of this team.
Frank as always, he gave a midseason update on his NBA status as well.
"You never know. You never know," he said, asked if he'll return to KU for a senior season. "My focus is only on the season right now. I would really think about coming back. I'm looking forward to coming back, but you never know."