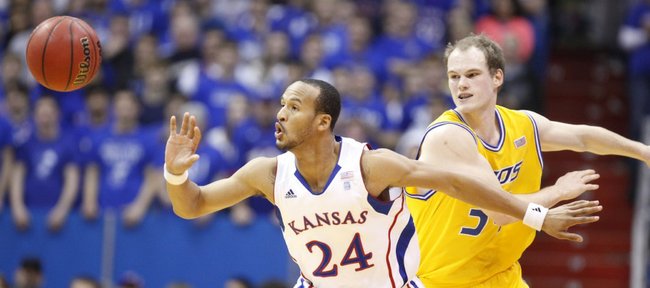 Kansas University sophomore forward Travis Releford made a name for himself nationally on Wednesday night.
The 6-foot-5, 205-pound Kansas City native's highlight-reel dunk against UMKC emerged as ESPN's Top Ten Play of the Day — a nightly SportsCenter award that encompasses all games in all sports.
Nice honor? To be sure, but not one needed for Releford to prove his value to teammates and coaches.
"Travis is great. I believe that he's like a baseball utility player. You put him out there, he'll play wherever," KU coach Bill Self said Thursday, a day after after Releford hit four of seven shots and three of four free throws — good for 13 points in KU's 99-52 win over the Kangaroos.
"You can play him as a big. You can play him as a guard. He can play post defense. He guards ball screens as well as anybody we have. He does a lot of things that are important to us.
"This year, he's not taken a ton (of threes), but has really shot it well from range. He's shooting 46 percent (12 of 26) from three. He's done a little bit of everything," Self added.
Junior power forward Markieff Morris has noticed.
"Travis is very quick. He has a great work ethic and just outworks a lot of the guys in the post," Morris said of Releford, who averages 6.1 points per game off 56.1 percent shooting.
Releford followed his crowd-pleasing second-half dunk by burying a three on KU's ensuing possession.
"I was just feeling it at the moment," Releford said. "Make a layup, a close shot, then it just seems easier."
A regular member of the rotation who has started four of 14 games, Releford said he's relished playing an average of 15.3 minutes per game.
"It's a lot of fun coming from sitting out the whole season," said Releford, a red-shirt last season. "All the hard work I put in and being able to come out this year and show it off, it's been a lot of fun.
"The year paid off a lot, with my confidence, with my jump shot," Releford added. "As you can see, I've been making it. Just learning more about the system."
Self said there's always room for improvement.
"I want him to be our best lockdown defender," Self said, "and he is not that yet. I'm not saying he doesn't defend. I'm saying for him to become a great lockdown defender, still there's room for that. It's what I'd love to get from him off the bench."
•
Morris on latest Wooden list: KU junior Marcus Morris is one of 30 players named a Wooden Award midseason top 30 candidate. Other Big 12 players on the list: Marcus Denmon, Missouri; Jacob Pullen, Kansas State; Alec Burks, Colorado; Jordan Hamilton, Texas; LaceDarius Dunn, Baylor.
•
Daniels update: Several national recruiting analysts believe DeAndre Daniels will soon commit to KU over Texas and Kentucky. Jerry Meyer of Rivals.com says Daniels, a 6-8 forward from IMG Academies in Bradenton, Fla., is likely "waiting on certain non-athletic financial aid paperwork to go through." KU has a full allotment of scholarships awarded for this season, so Daniels would need to acquire a Pell Grant or some sort of academic scholarship to have his tuition, books and room and board paid second semester.
•
Robinson returns: KU sophomore forward Thomas Robinson returned from hometown Washington, D.C., Thursday in time for practice. He had headed home earlier this week for his grandmother's funeral. KU will next meet Michigan at 3:30 p.m., Sunday, in Ann Arbor, Mich.