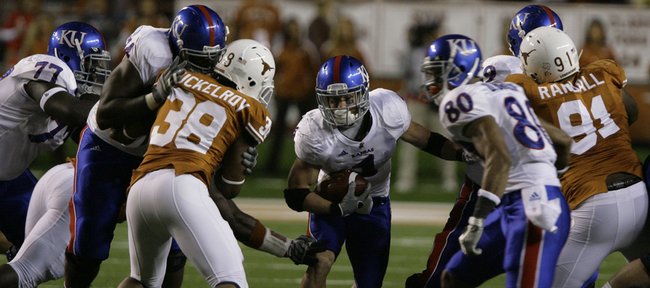 Too small. Won't make the transition from high school record-breaker to featured running back in college. Dreamer.
Jake Sharp, on the short and narrow side, took all those outside doubts and turned them into jet fuel he used to burn his way to 2,239 rushing yards (10th in school history) and 23 touchdowns (tied for third) during a four-year career at Kansas University that concluded with an injury-marred 2009 season.
So what's he doing now?
Dreaming again.
"I've been turning down big-boy jobs, still keeping the dream alive," Sharp said during a telephone interview from his parents' home in Salina.
Sharp, who attended Chicago Bears rookie camp for a week last season, said he has tryouts scheduled for later this month with the Philadelphia Eagles, New York Jets and New England Patriots.
"My name's still in the pot and will probably be in the pot one more year," Sharp said.
He added he plans to play in the Arena Football League this winter and will try to land a job in the Canadian Football League, if he can't make an NFL roster.
"If I make the NFL, it will be as a return-man specialist," Sharp said.
He said he had discussed returning kicks with then KU coach Mark Mangino, who was agreeable to it, but then once Sharp suffered a serious leg injury that prevented him from playing in two games and dogged him the rest of his senior season, that plan was scratched.
Sharp said there is no contact during tryouts, footballs are shot out of a machine and the evaluators study how he catches the ball, runs and moves. How does he simulate those tryouts?
"I have no access to indoor facilities, so I run outside in 30-degree weather and I catch balls that I throw up in the air," he said. "You know me, I go in there and I think I'm the baddest man alive and I can't drop the football. That's how I do it."
For money, Sharp has taken temporary jobs, building pallets at a warehouse, substitute-teaching and working on a farm.
"I don't want to give up my dream too early and be the guy who sits around and says coulda, woulda, shoulda," he said. "If it doesn't work out, I can sleep at night knowing I tried, and then I can get a big-boy job."
For now, he has enlisted the help of his former high school track coach, Joe Wilkerson — the man Sharp credits for turning him into a state sprint champion by showing him more efficient running form — to form Sharp Sports Performance (sharpsportsperformance.com). They are in the midst of scheduling speed clinics for boys and girls (ages 11-19) throughout the state. The next scheduled one in the area is January 15 at Olathe Northwest with sessions at 10 a.m. and 1:30 p.m. Sharp said he anticipates holding a clinic in Lawrence in late January or early February.
He can't guarantee those who attend will rush for 3,304 yards and 63 touchdowns, as Sharp did his senior season at Salina Central, but he does promise the clinic will put young athletes on the path toward maximizing their potential. He brings plenty of credibility on that front.