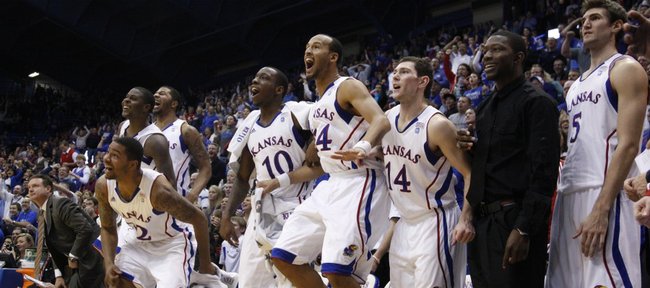 It took Tyshawn Taylor 2 1/2 weeks — four games — to adjust fully to freshman sensation Josh Selby's presence in Kansas University's basketball lineup.
"I think it was (adjustment) for all of us, throwing a new player in after nine games. Even though he'd been practicing with us, he'd been on the second team a lot. I'd not been playing with him too much," junior combo guard Taylor said after collecting 15 points and seven assists against no turnovers in the Jayhawks' 99-52 rout of UMKC on Wednesday in Allen Fieldhouse.
In four games since Selby's season debut against USC, Taylor had scored just 21 points off 8-of-22 shooting and committed 15 turnovers against 13 assists.
"I love playing with Josh. I think he's perfect for our offense. He makes plays for himself and others. I think he's perfect," Taylor added.
Combo guard Selby had 16 points with seven assists against three turnovers on a night KU had six players score in double figures. The Jayhawks also forced 26 turnovers, thanks in large part to an effective 1-2-2 fullcourt press.
"The defenses have been playing us kind of weird. They've been sagging in a lot to help on the twins. The shots have been there, but I haven't been taking them. I feel I have to start taking them and being more aggressive. I think I did that today," Taylor said.
Taylor hit four of nine shots (one of three threes) and six of seven free throws.
He said he had a blast running the press.
"I like it. I think all of us like it. We can cheat and do things like that," Taylor said, adding, "it helps slow the other team down. They've got to throw the ball back and forth. It's been good for us."
KU coach Bill Self liked Taylor's play — "He was good, shot the ball well, was active defensively" — as well as the press.
"I think against certain teams it shortens the clock so they can't run their stuff the entire 35 (seconds)," Self said. "We got quite a few steals off our press and turnovers today."
Tyrel Reed (11 points, 3-for-4 from three) and Selby had five and four steals respectively on a night KU totaled 18 thefts to UMKC's two. The Kangaroos had just four assists to KU's 26.
Quick guards Taylor, Selby and Elijah Johnson (13 points) played several minutes together.
"I don't know if that's our best or most athletic team," Self said. "We could make a strong case it is. Our best teams, I've played three little guards. It doesn't matter to me, if one (of them) is tough enough to defend a three (small forward)."
The Jayhawks had several highlight-reel dunks.
KU led, 52-24, at the break and outscored UMKC, 47-28, the second half. Johnson missed a couple of late dunks preventing KU from winning the second half by 20 points, which was the goal during a season the Jayhawks have had trouble putting some teams away.
"Elijah will hear about it when we're running tomorrow. He's heard about it from us already," Taylor said, laughing.
Johnson had a quick quip: "It's kind of hard to do math when you are on the floor," he said. "It's hard to do math when we are running the floor and playing in a college basketball game."
The laughs are over for a while.
KU travels to Big Ten school Michigan for a 3:30 p.m. tipoff Sunday, then opens Big 12 play at surprising Iowa State at 8 p.m. Wednesday.