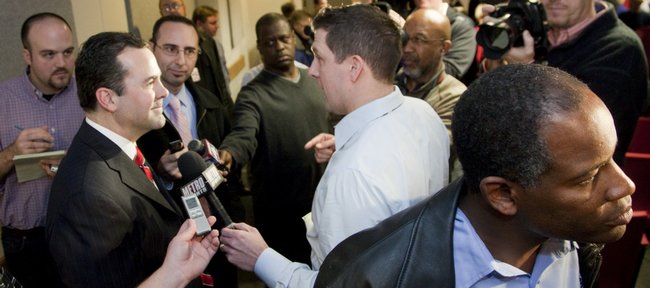 Videos
KU introduces Sheahon Zenger as new AD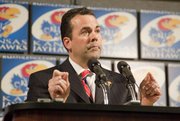 Kansas University introduced Sheahon Zenger as its new Athletic Director on Monday, Jan. 3, 2010.
Photo Gallery
KU hires Sheahon Zenger to be next athletic director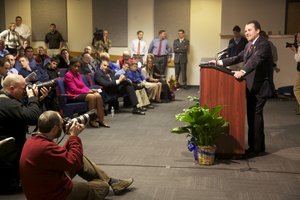 Sheahon Zenger was hired Jan. 3, 2011, as the next athletic director at KU. He succeeds Lew Perkins, who resigned in September. He'll begin work Feb. 1, 2011.
Bill Self slipped unnoticed into Kansas University's Hadl Auditorium at 1:40 p.m. Monday, right after the start of athletic director Sheahon Zenger's introductory news conference.
KU's eighth-year basketball coach — who Zenger agreed is "the face of KU's athletic department" — stood in the back of the room next to a Journal-World reporter while listening intently to his new boss.
"I thought he was obviously very prepared, far more prepared than I was during my (first KU) press conference," Self said, while en route to his office prior to yet another 2010-11 hoops practice.
He spoke with Zenger on the phone late Sunday night and in person Monday morning.
"(He's) prepared, excited, energized. It's just going to be a matter of hours before I think the morale of this place has been improved," Self said.
He said he was pleased to have met Zenger, his wife, Pam, their three kids and Zenger's parents, but Self hasn't "really had a chance to sit down and visit with him one-on-one yet. We've talked a lot on the phone. Anybody who meets him knows he is very excited about this position."
Zenger is the man who hired former KU assistant Tim Jankovich as head coach at Illinois State.
"Tim is not only a colleague and a guy I worked with as part of our staff, but a close friend. He told me this is obviously a great day for us and a tough, tough loss for them (at ISU)," Self said. "Tim feels so strongly about the great job he did for Illinois State."
KU football coach Turner Gill stood off to a side with interim A.D. Sean Lester in a jam-packed Hadl Auditorium.
"It was a great speech," Gill said. "More importantly, he's a solid person who I think is very much so the best man for us to move forward in this athletic department. I think our fans will enjoy him. I'm excited to have him be a part of it. You can obviously feel a sense of his coaching (experience). I know he's a very organized person. I've heard nothing but great things from people who know him and have worked with him.
"He has a great background, a doctorate degree. He's been involved with athletic programs and been involved in recruiting. He understands what coaches do and what they need to do. He has a great personality to go out and reach people.
"He came across with strong passion. He feels good about where he's at, what he wants to do. He has great vision, great energy. When you have those kind of things ... you are excited to work for a guy like that."
KU volleyball coach Ray Bechard, like Zenger, is a native Kansan.
"I grew up an hour west of Hays," Bechard said of Zenger's home town. "I'm thinking I had his dad for a class at Fort Hays State University. I remember the name (Zenger). He's younger than I am, (but) I'm sure we'll share some of the same Western Kansas stories at some point."
Bechard said Zenger, "is going to be great. It's obvious he's excited about being here. He can hit the ground running, just from the standpoint he knows the place. I visited with him a little last night. He was so excited about today, getting here and getting started."
KU coach Self said later on Monday's Hawk Talk radio show that Zenger held meetings with KU coaches and the administrative staff after his news conference.
"He's fired up," Self said. "I'm excited for him. I'm excited for us. I think it's going to be a great situation for all of us."