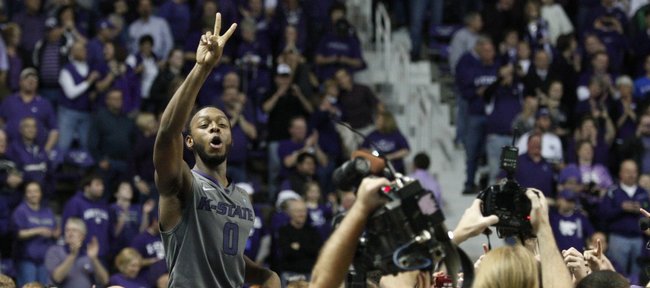 Manhattan — Bill Self and Jacob Pullen had a compliment for each other in the hallway outside the locker rooms following Kansas State's 84-68 victory over Kansas University on Monday night.
Self, KU's coach, told Pullen, K-State star guard, that it was a classy move to pull the ball back out and pass it in the game's final minute when he had a chance at 40 points.
KSU's guard responded quickly.
"I told him I hate that triangle-and-two (defense) that he runs on me every year," Pullen said with a laugh.
Gimmicky defenses, different defenders — nothing worked for KU on Monday night against Pullen, who scored a career-high 38 points on 9-for-17 shooting.
The 6-foot senior guard was so hot that after missing one free throw, KU guard Brady Morningstar leaned over to him.
"You owe me four more of those," Morningstar joked.
Pullen ended 5-for-6 from three-point range and 15-for-19 from the free-throw line.
"Shots were just going in," Pullen said. "I felt good about how we were playing as a team."
Pullen said he was reflecting on his team's recent losses to KU the night before while lying on his bed.
Still haunted by costly turnovers in his team's loss to Colorado on Saturday — "I had nightmares about that for a few nights," Pullen said — the senior was encouraged by his brothers Byron and Joseph.
Both texted him with a simple message: Move on.
"It's like a job. You wake up in the morning, and you don't have a good day at work, you've got to go back to work. Forget about it," Pullen said. "That's what I tried to do."
Pullen said he felt a different energy from his team in Monday's game.
"Last time we played (KU), I just felt that as a team, we were emotionless," Pullen said. "I felt like we just went there to get blown out and get out of there."
Three years after Pullen and the Wildcats upset No. 1 KU, 84-75, Pullen once again celebrated the victory by standing on the scorer's table above a throng of KSU fans.
"It's a feeling I'd only had once in my life," Pullen said, "and it's a great feeling."
Pullen, who is friends with KU's Marcus Morris after attending camps together over the summer, said he didn't have any problem the KU forward's comments saying that he wanted to be No. 1.
"They lost that one game to Texas, but they've been playing good basketball before that," Pullen said. "They deserved to be No. 1 going into this week, and it was a tough game, but I'm sure they'll bounce back this weekend."