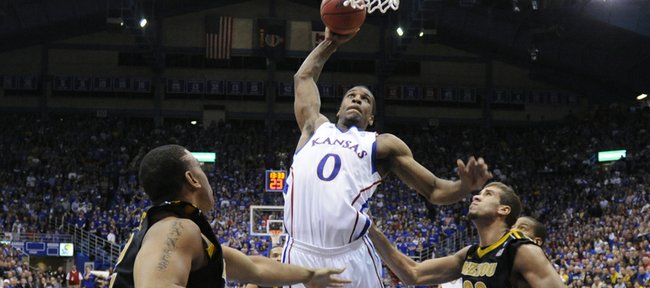 Kansas University sophomore forward Thomas Robinson had successful surgery Friday to repair a meniscus tear in his right knee and will be out for approximately two weeks, KU coach Bill Self said Friday night.
Robinson injured his knee after completing a dunk against Missouri on Monday, Self told the Journal-World.
"When he fell (after dunking), his knee buckled. It's been bothering him since the game and we did an MRI on him this morning and found out he had a (slight) meniscus tear in his right knee," Self said. "Surgery was performed (Friday). It went well, but he will be out on either side of two weeks depending on how progress goes. It could be a little shorter, could be a little longer."
The 6-foot-9, 237-pound Robinson, who averages 8.9 points and 6.4 rebounds a game, has made 20 of his last 25 shots over the last four games, averaging 12.8 ppg in that span.
Robinson missed the Colorado game on Jan. 25 tending to the funeral of his mother, Lisa, in Washington, D.C.
"He'd definitely been playing great," Self said. "Basketball has been a great release for him. He's very disappointed, but has been strong throughout this. He had a great attitude today.
"We're disappointed for him for a lot of reasons. One is he is playing so well. But we would rather have him healthy and in rhythm going into the postseason than waiting and doing the surgery later on (and letting him play with the injury)."
According to sportsmedicine.about.com, the meniscus is a small, C- shaped piece of cartilage that acts as a cushion in the knee joint, sitting between the thigh bone (femur) and the tibia (shin bone). During meniscus repair surgery the torn section of meniscus is either removed or the torn edges are joined back together with suture or tacks. The goal is to save as much of the original, normal meniscus cartilage as possible.
If Self decides to go with a big lineup, the injury means more playing time for 7-foot sophomore center Jeff Withey.
Meanwhile, Josh Selby (stress reaction, right foot), who has missed the last two games, is listed as doubtful for today's game against Iowa State.
"Josh did practice today, limited," Self said. "I seriously doubt he'll play tomorrow."
Speaking on his weekly Friday morning spot on 610 radio, Self spoke about Selby's condition.
"I thought he'd be a little further along. I think the doctors did, too. He's been fitted with a new orthotic, which is specially made for him (designed to) get him through the next two weeks if he experienced any tenderness. I don't know if he's getting used to the orthotic or is sore, but he didn't move great (Thursday).
"We're not going to play him if he's hurting," Self added. "We need to have all our pieces. I've said for years you want to be playing your best basketball February into March. You want to get that confidence over time. In this situation, we'll be a different team with Josh than without him. We need him to get as many reps as possible. It'd help us and him to have continuous games under his belt where he's in peak form going into the postseason."
Travis Releford recently missed five games because of a severe ankle sprain and is still not 100 percent. Tyrel Reed has been playing, but slowed by an left foot injury. And Jeff Withey has battled tendinitis in a knee.
Self described Reed's injury as "a sore foot in a tough spot. It's kind of a bone-bruise-type spot on his heel. It is not an Achilles. Don't read into that at all, but it's in a location that can create a nuisance such as an Achilles in that area."
Defense: Brady Morningstar on trying to defend ISU senior guard Diante Garrett, who burned KU for 27 points in the first meeting in Ames: "You have to keep him out of the paint. He likes to isolate his defender and drive. He's a heck of a player. He can handle the ball well, he can pass and he can score at the rim."
ISU's Garrett on playing in Allen FIeldhouse: "I think it's a great place. The tradition that's been in there. The teams that have played there. And Kansas has always been on top, one of the top 10 teams in the nation. Being able to play there, I'm thankful to be able to play in that kind of place. I just think it's a great place."
Naismith Award: KU junior Marcus Morris was named to the Naismith midseason list of 30 players, the Atlanta Tipoff Club announced Friday. The Naismith Trophy will be awarded at the 2011 NCAA Final Four in Houston.