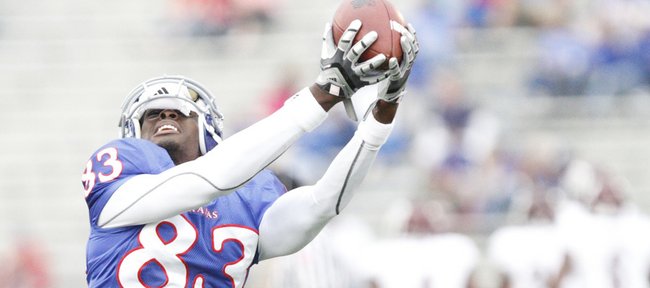 A Kansas University football player was arrested over the weekend on a drunken driving charge.
According to Douglas County Jail records, a KU Public Safety officer arrested 19-year-old Chris Omigie around 2:30 a.m. Saturday after a traffic stop near 21st Street and Naismith Drive on suspicion of operating a vehicle under the influence of alcohol.
Omigie posted $500 bond Saturday and was given notice to appear in Lawrence Municipal Court Feb. 16, according to jail records.
"He is still a member of our team. Coach (Turner) Gill will handle the discipline internally," Jim Marchiony, a KU associate athletics director, said Monday.
Omigie played in 10 games last season as a redshirt freshman wide receiver. He is originally from Arlington, Texas.
Scott Miller, a staff attorney for the city, said in criminal cases in Kansas prosecutors must prove a driver's blood-alcohol content was 0.08 percent or more whether the driver is of legal drinking age or not. But a driver under the age of 21 can face driver's license restrictions if his or her blood-alcohol content was at least 0.02 percent, he said.