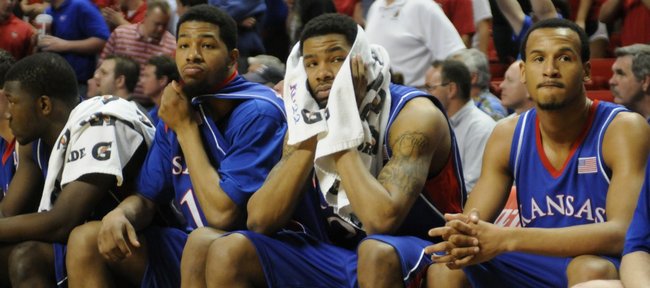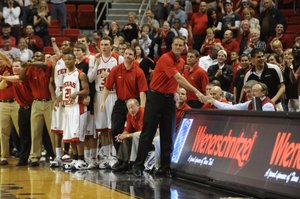 Reader poll
Kansas

68%

2327 votes

Texas

31%

1073 votes
3400 total votes.
Lubbock, Texas — Kansas University's basketball team has compiled an amazing 43-16 record in Big 12 Conference road games under eighth-year coach Bill Self.
The six-time defending league champs, however, are 0-3 in 15,020-seat United Spirit Arena (in the Self era) entering Tuesday's 8 p.m. contest between No. 2-ranked KU (20-1, 5-1) and unrated Texas Tech (11-11, 3-4).
"Oh, man, I've been thinking about that a lot. I lost there my freshman year, and I don't want to lose there again," KU junior Tyshawn Taylor. He was referring to an 84-65 setback on March 4, 2009 — which tied for the fourth-worst loss in the Self era.
"We are definitely going to work hard and get ready for Texas Tech because we know that could be a game that could easily slip away from us," Taylor added.
KU is 19-4 all-time against Tech, but just 6-4 in United Spirit Arena.
"I don't know, but Texas Tech is not a bad team," Taylor said, asked for reasons for KU's troubles vs. Tech. "They've got good players that can make plays (like seniors Mike Singletary, John Roberson and Brad Reese, who average 14.3, 12.9 and 12.4 ppg respectively).
"When we go to Lubbock, it's not always the most exciting place to play because the fans aren't always as juiced. Like coach Self says, you create your energy a little bit. Sometimes it's tough to do that, you know?" Taylor added.
Marcus Morris, who like Taylor is 0-1 in Lubbock, also can't explain KU's three-game skid here.
"It's very surprising," Morris said. "Every year, we have a good team and have been consistent. Since coach Self has been here, we've been winning the Big 12. But we haven't won there.
"My first year, we didn't win there, but we won the Big 12, so maybe it's just a jinx or something."
KU's past experiences tell Self to be wary of tonight's foe.
"Since I've been here, we haven't won. We're 0-3," Self stated. "A couple of them came down to the last shot (KU lost 69-64 in 2007 and 80-79 in double overtime in 2005). Our guys talked about that yesterday. We'll be excited going down there trying to do better."
Coach Pat Knight's Red Raiders have beaten Oklahoma State, Nebraska and Iowa State after opening with losses to Oklahoma, Kansas State, Texas and Baylor. It's Tech's longest winning streak in conference play since Knight took over as head coach from his dad, Bob, late in the 2007-08 season.
"There was a time Oklahoma (3-3) and Tech (3-4) were not playing well at all, and now they've won three league games. We've got to go down there and play better," Self said.
Knight cited one reason for Tech's luck versus KU.
"If you look back, you'd see we were abnormally hot. We hit a lot of shots against them in all three games. That always helps, especially when going against a better team than yourself," Knight said. "We were on fire against them in every game, hitting threes. You do that, it opens up the drive and everything.
"We've got to be able to score against them. We'll try everything we can from a defensive standpoint. They are so good offensively, if the defense is not working, we have to hit shots."
Knight said he respects KU's program.
"They reload every year," he said. "I really like the Morris twins. They've got a great outside threat in a kid like (Tyrel) Reed and a kid like (Brady) Morningstar. If we get too enamored with their inside game, those two can get 20 any night. They're very dangerous."