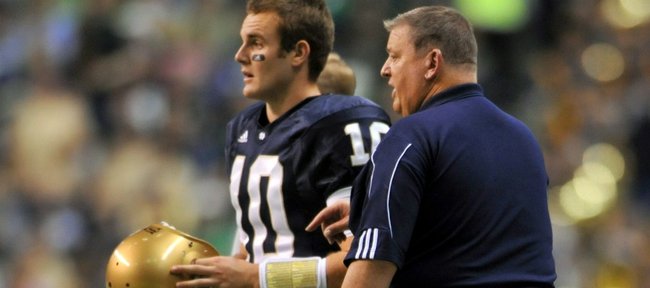 Dayne Crist has wanted to play in the NFL since he first picked up a football at the age of 6.
And if things go well during his one season at Kansas University under the coach who recruited him to Notre Dame out of high school, Crist may get that chance.
For now, though, the former five-star prospect and Fighting Irish quarterback is focused only on making sure that his reunion with KU coach Charlie Weis is as beneficial for Kansas as it is for him.
"At this point, that's not a conversation that I'm having," said Crist of his pro potential. "The conversation that I'm having is, how are we gonna be successful on offense at Kansas? That's the most important thing to me right now."
With his financial-aid agreement signed and many of his personal bios now reflecting his new school, Crist officially can begin his countdown to Kansas.
The 6-foot-4, 235-pound righty who grew up rooting for New England Patriots quarterback Tom Brady and hopes someday to follow in his footsteps, chose to finish his college career at Kansas because of Weis, who recruited him to Notre Dame back in 2008 and the man who, Crist believes, gives him the best chance to showcase the skills that made him the country's No. 2-ranked quarterback in his high school class.
"He's the greatest offensive mind I've ever been around," Crist said of Weis. "So playing for him as an offensive player is very, very exciting. He's just so knowledgeable with everything in terms of schemes and personnel and ways to take advantage of defenses. It's really fun to play for him."
Asked to describe the Weis offense in greater detail, Crist obliged, but spoke in generalities because of the vast make-up of Weis' attack.
"It's a pro-style offense, so I think a lot of it demands a little bit more out of the players mentally," he said. "But once everyone gets the hang of everything, it's real fun and a real exciting offense to play in."
Why?
"It varies," Crist said. "We've kind of got everything in the arsenal. But we're good about game-planning and figuring out what works well against our opponents."
Crist will join a team that has a solid group of running backs: James Sims, Brandon Bourbon and Tony Pierson. Questions have popped up about whether Darrian Miller, last season's second-leading rusher, will be back in 2012. While Miller's status is unclear at this point, his addition only would make KU's backfield stronger. Crist said running backs of all kinds typically play a key role in the Weis offense.
"Definitely," he said. "Every position is so vital. Having a talented stable of running backs is going to be huge for us."
As for the guys he will throw to, Crist said KU's new offense would not be picky about the make-up of its wide receivers.
"With coach Weis, I've played with big guys, fast guys, small guys. It doesn't really matter," Crist said. "I think at this point it's just about guys that love playing and will be playmakers. Size and speed and all that stuff … that doesn't make a difference, really. We need guys that are smart, that know what they're supposed to be doing and are disciplined in their route-running and just want to make plays."
Crist makes Weis' offense sound simple. It's not.
But KU's new QB said as long as guys are willing to put in time to master it, KU should benefit tremendously.
"He's a great coach and has a great way of teaching," Crist said of the offense's architect. "As long as everyone buys in, I don't think that'll be a problem."
Crist, who is scheduled to arrive in Lawrence on Jan. 13, said he already had been in contact with several of his new teammates and added that he was looking forward to joining them for offseason workouts.
"The biggest thing for me," Crist said, "was just knowing that football ends for everybody, no matter how long you play, whether you're an NFL all-pro, a guy that just played little league football or anywhere in between. So just maximizing whatever time I have left to play football was what was most important. I love this game so much, and I've been playing since I was 6 years old. It's tough to imagine what life will be without it."
As for any extra pressure that might come because of the excitement surrounding his commitment, Crist, the first five-star football recruit in KU history, said he would use that as a method to motivate himself and his new teammates.
"That's all stuff that I can't really control," he said. "I just love playing. And I'm going to love playing just as much this next year as I did when I was 6 years old. I'm excited that there's a buzz, but that's gonna be a buzz for the entire team. That's something that will be nice to have around us, but we just have to do whatever it takes to be as successful as we can."
Crist on Allen Fieldhouse
One day after Weis officially was introduced as the new KU football coach on Dec. 9, Crist took advantage of his connection to snag a seat in Allen Fieldhouse for the Jayhawks' 78-67 victory against No. 2 Ohio State.
What did he think?
"That was something else," Crist said. "I've never seen a basketball game like that. Just seeing the excitement with the fan base and just how loud it got … that was very exciting and something I definitely hope we can carry with us to the football stadium when we start playing this fall."
OU receiver granted release
Oklahoma wide receiver Justin McCay, a red-shirt freshman who played for new KU offensive-line coach Tim Grunhard at Bishop Miege High, has been granted a release by Sooners coach Bob Stoops and could be exploring a transfer to KU.
After red-shirting in 2010, McCay, 6-foot-2, 209 pounds, played in three games this season but did not record a reception.
As a senior in high school, McCay was the No. 1-ranked player in Kansas in the Class of 2010, according to Rivals.com. Reports have indicated that McCay also is considering Kansas State and Missouri. If he follows through on his transfer, McCay would have to sit out the 2012 season.