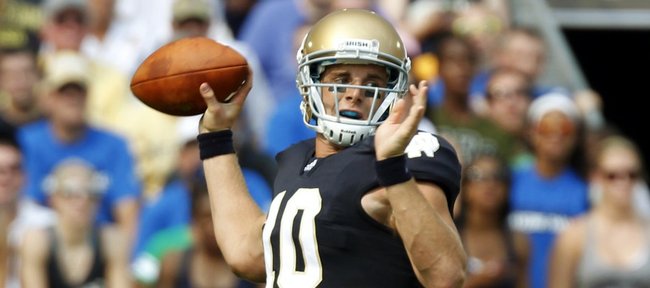 Just about everywhere he has coached, Charlie Weis has worked with great quarterbacks.
In New York with Neil O'Donnell and Vinny Testaverde, in New England with Tom Brady and at Notre Dame with Brady Quinn and Jimmy Clausen, Weis always seems to have had a big, strong, pro-style quarterback under center.
Thanks to a couple of huge commitments, it now appears Weis will have the chance to keep the tradition alive at Kansas University.
Thursday, within a few hours of each other, former Notre Dame quarterback Dayne Crist and BYU transfer Jake Heaps orally committed to Kansas, giving KU two of its most high-profile quarterbacks in school history. Both commitments will become official on signing day in February, but it appears both former five-star prospects are happy with their decisions already.
"I'm 100 percent all in with my decision," Crist told IrishIllustrated.com Thursday night, several hours after initially announcing his decision on Twitter. "I wanted to make sure I had full understanding of the players, the coaches, everything that goes into it. I just felt Kansas was the best fit and embodied the things I was looking for. I'm just thrilled to have this opportunity."
Heaps, a sophomore who started 15 games during his two seasons at BYU, told Jon Kirby of JayhawkSlant.com that he had been in contact with Crist.
"I talked with Dayne, and we are excited to get to Kansas and get the program on track," Heaps told Kirby.
Kirby, who has followed KU football recruiting for 13 years, said Thursday's flurry of activity was by far the craziest he had seen during that time.
"I really believe there's only one person that Kansas could've hired that could've pulled this off," Kirby said. "And that person is Charlie Weis."
Crist, the No. 2-ranked QB in the Class of 2008 who graduated from Notre Dame earlier this month, will arrive at Kansas with one year left to play and will be eligible immediately. Recruited to Notre Dame by Weis in 2008, the 6-foot-4, 235-pound Crist played three seasons and made 10 starts for the Fighting Irish from 2008-11. During his time at Notre Dame, he completed a shade over 58 percent of his passes for 2,327 yards, with 16 touchdowns and nine interceptions, while going 4-6 as a starter.
His best season, both statistically and in terms of impact, came during 2010, when he started nine games and threw for 2,033 yards and 15 TDs.
Heaps, the former No. 1-ranked QB in the Class of 2010 whom Weis also recruited while coaching at Notre Dame, started the final 10 games of his freshman season at BYU (2010) and the first five games in 2011 before being benched. He set freshman school records for yards passing (2,316), attempts (383), completions (219) and touchdown passes (15) during the 2010 season that ended with the 7-6 Cougars beating UTEP in the New Mexico Bowl.
In accordance with NCAA transfer rules, Heaps, 6-1, 200, will sit out the 2012 season and will have two years of eligibility remaining beginning in 2013. He will be allowed to practice throughout 2012. Both players are expected to be on campus for the spring semester and will be eligible to participate in spring practices.
"It's like the perfect situation," Kirby said. "It all came together at the right time. I think Dayne Crist had the relationship with Charlie Weis, and they know each other and understand each other, and that's going to be great for Kansas football. And I think Jake Heaps is somebody that wants to be in the NFL, and he knows that he's now playing for someone who can help him get there, and he'll be playing in a pro-style offense."
Thursday's excitement surely was the kind of splash KU athletic director Sheahon Zenger envisioned when he hired Weis on Dec. 8. Despite the program coming off a 2-10 season, KU football was scrolling on ESPN's "bottom line" throughout the day, and ESPN analyst Trevor Matich did an entire segment on Crist's potential impact at KU on "College Football Live."
"He brings understanding," Matich said on the show. "He didn't get to play much under Charlie Weis, but he was there, in the system. As a pure, drop-back passer, he's the kind of guy that Weis knows how to coach."
While KU's quarterback haul became national news and was a hot topic on message boards everywhere, it also made quite an impression on a few high school seniors who already had committed to KU.
"It definitely gets me excited," said three-star tight end Jordan Smith of Reicher High in Waco, Texas. "Having a great quarterback, that helps the team tremendously. And having quarterbacks that have already proven themselves in other programs, as not only leaders but also as athletes, is great. Picking up two of them in the same day, that's crazy. But I think it's gonna be great for the program."
Williams taps Cyclones
Orlando offensive lineman Duaron Williams, who had listed KU as one of three finalists, orally committed to Iowa State on Thursday night.
Williams, 6-4, 298, projects as an offensive guard in college. He chose the Cyclones over Kansas and Central Florida.
Also Thursday, Largo, Fla., tight end Sean Culkin, who had been considering KU, orally committed to Missouri.