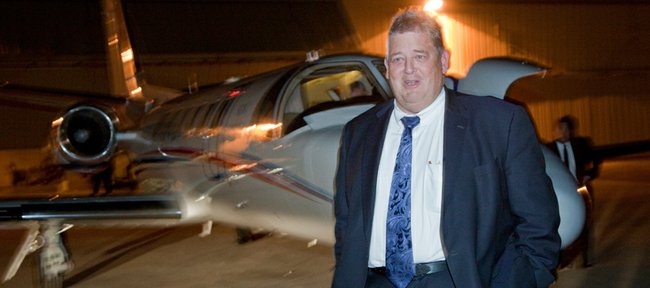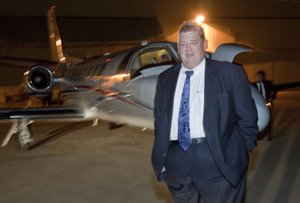 In a little more than a 36-hour period, on three separate occasions Journal-World photographer Nick Krug and I covered the arrival and introduction of Charlie Weis to Lawrence as Kansas University's new football coach. If you can picture Weis in your head right now, it's probably because of us.
Our sports reporters were tracking KU's jet plane Thursday night, Dec. 8, surmising that Weis might land at the Lawrence airport. I got a call around 8:30 p.m. and within 10 minutes of my arrival at the airport the plane was in sight. Well, sort of. It was actually pitch black. With no ambient light near the KU hangar, I knew that any photo of Weis departing the plane would require flash. Ironically, using flash in total darkness isn't easy. If you use automatic settings, the camera and flash tend to overcompensate. The camera's auto metering registers the dark area and assumes a whole lot of light is required for a correct exposure. Any nearby subject, surrounded by darkness, could be blown away by the auto flash. To compensate, I manually dialed down my flash to 1/16 power. My other settings were, f5.0 aperture, 1600 ISO and shutter speed of 1/20. I had tested this exposure by photographing my hand held as far away from me as I could reach. This let me gage how much flash would hit a subject at three feet. I could then do an estimate on the flash output at other near distances.
Focusing was another problem. It was so dark that my camera's auto focus barely recognized my hand during the above flash test. So as Weis stepped off the plane to walk to a nearby car, I had several concerns about getting a usable photograph.
Plus, did I mention the part about feeling like a member of the paparazzi? I had visions of my bright flash blinding the new coach, causing him to fall off the planes stair steps.
Fortunately it didn't happen. The handful of journalists present were warmly greeted by Weis and I approached to within range of my flash.
Although I could barely see the guy through my viewfinder, I kept pressing the shutter button and praying that he was in focus and in my frame. Imagine being in a dark closet photographing a black suit coat — as it moves. At times, the light of a TV camera would provide a brief moment of illumination and I would quickly lock focus and fire.
After Weis got into the car, the interior dome lights enabled focusing through the window. Worrying about correct flash exposure and focus was hard enough — now I had to take into account photographing with flash through a window. You can't shoot flash into glass directly because of its reflectivity. The flash will bounce the light right back at you.
To avoid this, I moved to a position at a 45-degree angle to the window. This eliminated the possibility of getting flash reflections but would still reach the subject.
As the car pulled away, Weis waved to us one last time and I snapped a final frame. I only took about 20 shots during this whole event and of those only five were usable. Other frames were out of focus or totally dark because the flash did not recharge quick enough during a sequence of shots.
The flash testing prep work and a quick recollection of how to correctly shoot flash through glass got me the shots I needed.
Welcome coach. Now smile!
— Chief photographer Mike Yoder can be reached at 832-7141