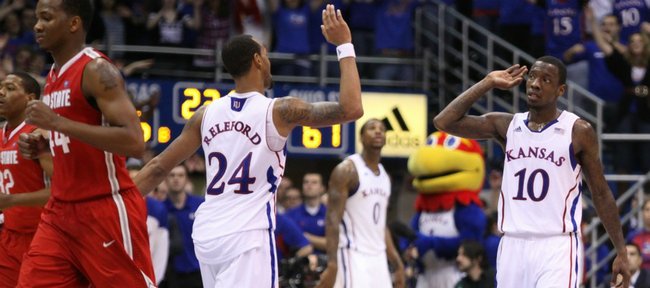 Tyshawn Taylor wasn't having any trouble walking around during the Kansas University basketball team's trip to Wal-Mart on Thursday to shop for needy families.
KU's senior point guard had surgery Sunday to repair torn meniscus in his right knee.
"It feels better than expected after three days," Taylor said Thursday. "I'm feeling good. I'm feeling confident about it."
Taylor was injured during practice on Monday, Dec. 5. He ended up playing in the Jayhawks' next two games — against Long Beach State and Ohio State — before electing for surgery.
The procedure Sunday took about an hour, with doctors putting Taylor under general anesthesia.
"They said the tear was bigger than they thought, and they were surprised that I played with it. Which, I'm glad they didn't tell me that before," Taylor said with a smile. "Yeah, they said it was pretty big. But it's out now, and it's good. I shouldn't have any problems with it after this."
Taylor actually said his knee felt better Thursday at Wal-Mart than it did Saturday when he played against Ohio State.
"It gets tight, and stiff sometimes and it's more swollen than it was," Taylor said, "but I feel good right now."
The knee was strong enough that Taylor shot at practice Friday. He did not participate in live drills. Coach Bill Self has not yet ruled him out for Monday night's 8 p.m. game versus Davidson in Sprint Center.
"I don't know yet," Self said of whether Taylor will dress for the game. "He feels pretty good."
KU junior forward Thomas Robinson, who had the same injury last year, returned to play in KU's game against Oklahoma State 10 days after his surgery. The KU-Davidson game will be the eighth day after Taylor's procedure.
"I knew there was a chance I would possibly miss the Davidson game and possibly the USC game (Thursday). There's honestly a good chance I won't miss either," Taylor said. "So I'm feeling good about that. I'm definitely not going to rush it, definitely not going to rush it. But if I can play, I'm going to play, because I know coach is going to give me the OK if I give him the OK."
If the Hoboken N.J., native plays, it's likely because of the hard work he put in during final-exam week.
Wednesday and Thursday, Taylor's schedule looked like this: one-hour training-room session in the morning, one-hour training-room session in the early afternoon, final exam in the afternoon, then one-hour training session around 5 p.m. The senior was the last person in the training room on Tuesday, Wednesday and Thursday.
Taylor — who actually pre-habbed with pool exercises before the surgery — said he is mostly concerned with strengthening the muscles around his knee, which includes his quadriceps.
As part of his rehab, he said does quad stretches and treadmill work and also puts weights on his leg before doing leg lifts.
Those exercises are followed by icing to reduce the swelling.
Greene close to announcing
Brannen Greene, a 6-foot-7 junior small forward from Mary Persons High in Forsyth, Ga., is expected to announce his college choice in coming days, Rivals.com reports. Greene's dad, Jeffrey, told Rivals.com that three (unspecified) programs had moved to the top of the list of the No. 35-ranked player in the Class of 2013. It has been speculated his three or four favorites are Kansas, UConn, Louisville and Florida. Also remaining on his list: Florida State, Harvard, Memphis and Ohio State.
Parker to visit?
Tony Parker, a 6-9, 250-pound senior center from Miller Grove High in Lithonia, Ga., may visit KU in the near future, jayhawkslant.com reports. Ohio State has been considered the leader for the No. 33-rated player in the Class of 2012, who is also reportedly considering Duke, Georgia Tech, Memphis and Georgetown.
Book signings today
ESPN's Jason King will sign copies of the book "Beyond the Phog" from 3:30 p.m., to 6 p.m., today at Hastings Books, Music and Video, 23rd and Iowa.
Also, former KU guard Tyrel Reed will be signing for his book, "Reed All About It," at Crown Automotive, 3400 S. Iowa St., from 10:30 a.m. to 12:30 p.m.
• Assistant sports editor Gary Bedore contributed to this report.