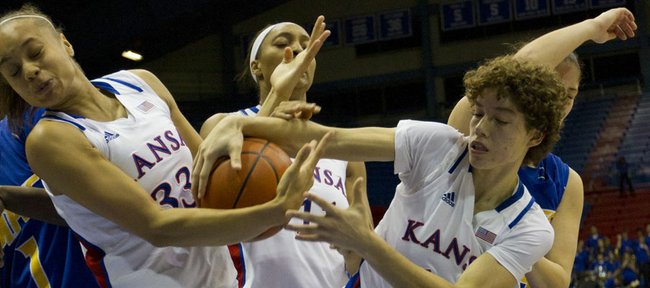 Document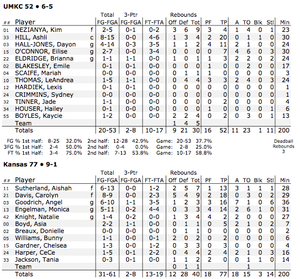 If one word could sum up the feelings of Kansas University's women's basketball team Saturday it would be: finally.
The Jayhawks had been idle for nine days before returning to James Naismith Court at Allen Fieldhouse to play host to UMKC. And once they shook off some rust, they rolled to a 77-52 victory.
Junior point guard Angel Goodrich said it was nice to get back to the season after finals week.
"It was a week since we had a game," she said, "so I think it helped that we were able to get out on the court, and it felt good being able to get up and down the court."
Kansas (9-1) established a lead early, but it remained relatively small most of the first half until KU closed on an 18-4 run. Junior forward Carolyn Davis began the stretch with a score inside at the 4:52 mark. She made two more baskets during the run, which also featured four points apiece from Goodrich and junior guard Monica Engelman, a bucket from senior forward Aishah Sutherland and a floater off the glass from sophomore backup guard CeCe Harper that beat the buzzer and gave Kansas a 39-21 lead entering halftime.
Jayhawks coach Bonnie Henrickson said the close to the first half, by far, was the highlight of the night, calling it "really fun."
"We turned them over, got to the rim, got lay-ups," the coach said.
Engelman, who returned to the starting lineup for the first time since Nov. 26, said Kansas was successful on both ends of the floor during the final first-half minutes against the Kangaroos (6-5).
"I think we were just clicking on all cylinders, especially on the defensive side," Engelman said after scoring 14 points. "We got some good stops on defense, and we were able to make them pay."
Goodrich, who had 16 points, seven assists and six steals, said it took KU time to get going.
"As a team, we were able to pick it up toward the end of the first half, and that is when we got our biggest lead," she said. "We didn't put our gas on the pedal when we came out to start the game, so when we got the lead toward the end of the first half, we just wanted to make it even bigger."
Though the Jayhawks didn't feel like they played well in the second half, when they outscored UMKC 38-31 and shot 14-for-34 from the field, Henrickson finally felt comfortable enough to go deeper into the bench late. While KU stuck with a seven-player rotation (only Harper and sophomore forward Tania Jackson had come in off the bench) for the first thirty-plus minutes of the game, freshmen Asia Boyd, Bunny Williams, Chelsea Gardner and Donielle Breaux got on the floor in the final minutes.
After losing guard Keena Mays, who transferred out of the program, Henrickson said KU just has a short bench.
"Right now, that's what we are," she said.
Hill goes for new career high
UMKC sophomore center Ashli Hill led the visiting Kangaroos with 20 points — a career high for the Lawrence native and Free State High product. Hill made eight of her 15 field-goal attempts in 30 minutes and grabbed four rebounds.
Her coach, Candace Whitaker, said Hill had been practicing much better lately, after eight straight games of single-digit scoring totals.
"Ashli's had a really great week. She struggled a little bit early in the season," Whitaker said. "She'll continue to get better."
The coach said she would've been surprised two weeks ago if someone had told her Hill would go for 20 points at KU.
Henrickson was aware of Hill's recent drought, as the 6-foot-5 center started only once in UMKC's previous four games, but Henrickson praised Hill for stepping up.
"We all know this is her biggest game of the year, and it should be," Henrickson said. "She played well, and shame on us, we didn't guard her any better."
Kansas has defeated UMKC six times in a row and leads the series, 15-3.
At 7 p.m. Wednesday, Kansas will play host to Oral Roberts.