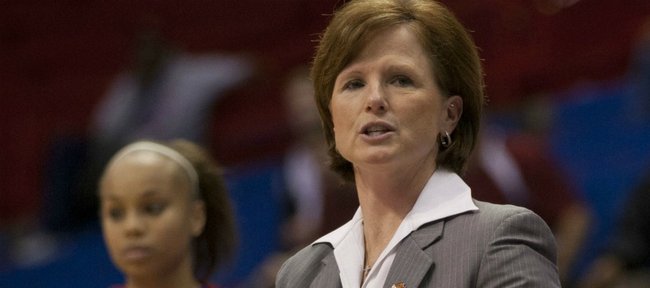 It has been more than a week since Kansas University's women's basketball team has played, and when the Jayhawks return to action at 7 tonight at Allen Fieldhouse, their lineup will have a very different look.
When KU (8-1) plays host to UMKC (6-4), it will be without sophomore guard Keena Mays, who announced Dec. 9 she was transferring out of the program.
In eight games for the Jayhawks (she didn't play in the season opener), Mays averaged 11 points and three rebounds, and shot 33-for-59 (56 percent), while cashing in 10 of her 24 three-pointers (42 percent). The dynamic 5-foot-7 guard out of Arlington, Texas, scored the deciding basket in a 74-73 Kansas win at Wake Forest on Nov. 20, posted a career-high 21 points Dec. 4 at Alabama (an 80-76 loss) and earned her first start of the season Dec. 8 against Wisconsin. In what proved to be her final game as a Jayhawk, Mays produced 17 points in a 73-44 rout.
The next dat at 9 a.m., KU coach Bonnie Henrickson said, Mays and her father, Ken, were in the coach's office to tell Henrickson she was leaving Kansas.
Henrickson characterized Mays' decision as "a surprise to all of us," noting her teammates had no idea about the "disappointing" move.
The eighth-year KU coach found the timing of it all puzzling, because Henrickson thought Mays had started to "figure it out" in the past month or so, noting that Mays shot the ball well from three-point range and was a playmaker when handling the ball or playing point guard.
Still, the coach downplayed the impact Mays' departure will have on the team's overall effectiveness on the floor.
"We've been able to rely upon her for two games," Henrickson said, referring to the Jayhawks' previous two outings, when Mays averaged 19 points. "She's been really good for two games. That's the honest truth. That's from a consistency standpoint."
Tania Jackson, a KU sophomore forward, said Mays had a big impact and the team will miss her.
"We've just got to focus on getting better and filling in that hole," Jackson said, adding that each player will need to chip in to make the team better.
Junior point guard and team captain Angel Goodrich said the Jayhawks needed to remain positive with the loss of Mays.
"We just need to stay together," she said.
Goodrich said Kansas has players in the backcourt who can step up and fill the void left by Mays, and her coach agreed. Henrickson said freshman guards Donielle Breaux and Asia Boyd, as well as sophomore CeCe Harper, who is slated to start against UMKC, now have an opportunity to make more of an impact.
Most importantly, Henrickson added, she wants the rest of the Jayhawks to keep doing what they have been doing. The consistency of junior forward Carolyn Davis (15.9 points, 4.8 rebounds), senior forward Aishah Sutherland (13.6 points, 9.4 boards) and Goodrich (12 points, 7.8 assists, 4.2 steals), she said, would help as much as anything.
Henrickson said she did not know where Mays plans to transfer, but stated in a release announcing the move that it would be "closer to home."
Hill playing in hometown
UMKC sophomore center Ashli Hill, a Free State High product, is scheduled to start against KU in tonight's game at Allen Fieldhouse.