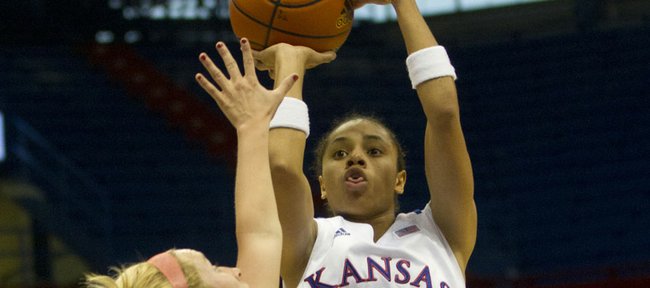 The Iowa State Cyclones were barely guarding her.
It was March 1, 2011, and whenever Kansas guard Angel Goodrich had the ball on the perimeter, her defender was a few feet away, just daring her to take a three-point shot.
Goodrich calls it one of the most embarrassing games in her basketball career. She's only reviewed the film of the game once.
"I don't even have to watch it," Goodrich said, "because I can just remember every moment."
ISU was able to guard Goodrich easily. Because of the sagging defense, Goodrich had nowhere to drive in the congested lane.
Not only did the Cyclones win, 72-36, but they also held Goodrich to 2-for-12 shooting overall and 0-for-3 three-point shooting.
Iowa State also limited KU forward Carolyn Davis to six points, essentially double-teaming the Jayhawks' best player with Goodrich's defender.
"I was so disappointed in myself, because that's the one thing you need to be able to do is knock down an open shot, because obviously, I was open," Goodrich said. "Just seeing that, I was like, 'Wow. If I don't do this, if I don't change something, then this isn't going to change.'"
The memory of that game, Goodrich says, helped motivate her in the offseason; she made just 28 percent of her three-pointers last year (19 of 67).
Goodrich — along with each of her teammates — hoisted up 20,000 shots on their own in the summer. The 5-foot-4 junior estimates about half of her shots were three-pointers.
"I always thought, 'Pass first,'" Goodrich said. "We just needed to change my mind-set, as far as 'shooting first.'"
The extra work has led to significant improvement this season.
Goodrich has made 39 percent of her three-pointers this year (9 of 23), which ranks 11th in the Big 12.
"She feels like people come up and guard her more, which means she's shot the ball better," KU coach Bonnie Henrickson said. "That's what I said (in the offseason), 'We've got to get people to guard you, and the only way they're going to guard you — respectfully guard you, really try to guard you — is if we get you to make more shots.' And that's changed sometimes what it looks like in the lane for everybody else."
Outside shooting isn't the only area where Goodrich has excelled.
Henrickson said the guard is KU's leader on both ends of the floor, as she's the team's best on-ball defender, communicator and decision-maker.
That's been backed up in the statistics. Goodrich is second nationally in assists per game (7.8) and seventh nationally in steals per game (4.2).
Part of the reason for her success also has been the fact that she's stayed healthy.
When talking with a teammate a few days ago, Goodrich realized that she had yet to play a full season at KU without missing games because of some ailment or another.
While at KU, the point guard has torn her ACL in both knees, with both requiring surgery and rehab.
Goodrich said she is pain-free now. The only time her knees bother her at all is during a quick temperature change. When that happens, the screws in her knees expand and contract, which sends an ache from the outside of her knee to the inside.
The screw in her right knee is actually visible under the skin — a small bump on the side of her knee.
"Just going through that has made me who I am now," Goodrich said. "I feel like I've accomplished so much, in just getting through the adversity I went through."