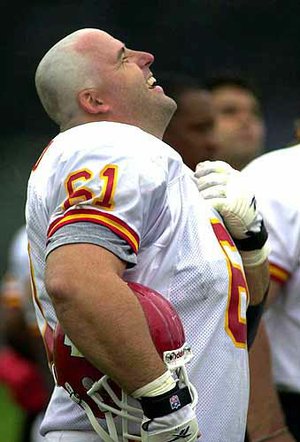 When asked at his introductory news conference last week what he would do if his son wanted to coach defense, Kansas University football coach Charlie Weis painted a clear and comedic picture.
"I would say he's a communist if he went over to defense," Weis said of his son, Charlie Jr., who recently transferred to KU and plans to learn the ins and outs of coaching under his father.
It's no wonder, then, that five days into his KU career, Weis already had filled four offensive positions on his coaching staff and none on the defensive side of the ball.
Two of those positions were made official on Tuesday, when Weis announced the hiring of offensive line coach Tim Grunhard and quarterbacks coach Ron Powlus. Like Weis, both men graduated from Notre Dame, and both have long-standing relationships with KU's new head coach. The other offensive positions that have been filled belong to Weis, who also will serve as KU's offensive coordinator, and former interim head coach Reggie Mitchell, who coached KU's running backs from 2010-11 and will continue in that role during 2012.
Tuesday afternoon, during his weekly radio spot with Soren Petro, Grunhard, a former sports talk radio host with 810 WHB, explained what it was about Weis that made him jump at the chance to join his staff.
"He's as happy as I've seen him in a long time," Grunhard said. "He's excited and he's motivated. I know one thing about Charlie Weis, when he's excited and he's motivated, great things happen."
Grunhard, who played 11 seasons with the Kansas City Chiefs before moving on to coach high school football in Kansas City, has had his eye on joining Weis' staff for quite some time. When Weis was hired at Notre Dame in 2005, he and Grunhard talked about a collaboration, but Grunhard's family and its ties to the Kansas City area kept him from heading to South Bend, Ind. When the opportunity to join Weis at Kansas presented itself last Sunday, the offer was too good for Grunhard to pass up. This time, his family agreed.
"I don't know if this is good or bad, but it was a unanimous vote for me to (take the job)," said Grunhard, who has four children. "They're excited. They were born here. They grew up here. They're KU fans."
A native of Chicago, Grunhard said his home and adopted cities would be his primary recruiting areas at Kansas. He officially will begin his new job on Jan. 1.
"I'm just thrilled and excited," he said. "It's such a great challenge.... I wouldn't have taken the job if I didn't believe Charlie Weis could win. And I wouldn't have taken the job if that wasn't one of the finer universities in the country."
Grunhard comes to KU on the heels of a successful, six-year coaching stint at Bishop Miege High, where he led the Stags to five straight district titles and the 2009 Class 4A state championship. During Grunhard's time leading the program, six Miege players went on to earn Div. I scholarships. It would have been seven, but former KU commitment Phil Ford fell short academically and spent the 2011 season at Iowa Western Community College. Ford, a 6-foot-6, 335-pound offensive lineman who red-shirted the 2011 season, always kept his eye on coming back to Kansas. Now, with his former high school coach involved with the program, Ford's hopes for a reunion are bigger than ever.
"I think he's gonna do really good," Ford said of Grunhard. "He's a really smart coach and, even though he was the head coach, he was always around other positions and would spend extra time working with all of us. He relates really well to everyone, and some of the things that he showed me really helped me in high school and have helped me much more in college."
Powlus, a former Notre Dame quarterback, who coached QBs under Weis from 2005-09, has spent the past two seasons at Akron, coaching QBs for former Notre Dame assistant Rob Ianello.
As a coach, Powlus helped develop former Notre Dame and current Carolina Panthers QB Jimmy Clausen into one of the most prolific passers in Fighting Irish history. In 2009, Clausen was named an All-American after completing a school-record 68 percent of his passes (289-for-425) for 3,722 yards and 28 touchdowns with four interceptions.
As a player, Powlus was a four-year starter at Notre Dame from 1994-97. He set 20 school records and started 44 games for the Irish. After college, he played three seasons in the NFL and also played one season for the Amsterdam Admirals of NFL Europe.
A native of Berwick, Pa., Powlus graduated from Notre Dame in 1997 with a bachelor's degree in marketing from the school's College of Business Administration. Grunhard graduated from Notre Dame in 1990 and was a member of Notre Dame's 1988 national championship squad.
"We have to build a winning tradition at Kansas," Grunhard said. "They have that winning tradition on the basketball side, and I don't understand why you can't find that on the football side. That is our challenge. That is our goal."
Steele honors 3 Jayhawks
KU seniors Tim Biere, Jeremiah Hatch and Steven Johnson each were named to college football analyst Phil Steele's third team all-Big 12 squad on Tuesday.
Hatch, a center from Dallas, also earned all-Big 12 second-team honors from the league's coaches, while Biere, a tight end from Omaha, Neb., and Johnson, a linebacker from Media, Pa., were honorable mention selections.
Johnson was named to the Associated Press second team all-Big 12 squad, while Hatch and Biere earned honorable mention nods on that list.
Crist update
Weis was scheduled to travel to Notre Dame quarterback Dayne Crist's home on Tuesday for an in-home visit. Crist, who visited Delaware a couple of days after coming to KU last weekend, will visit Wisconsin on Thursday and Friday, and could make a decision by this weekend.
Once he transfers, the 6-foot-4, 235-pound pro-style QB, who will graduate from Notre Dame this month, will have one season of eligibility remaining and will be able to play right away because of NCAA rules that allow athletes to play out their eligibility at another school immediately after graduation, without sitting out.