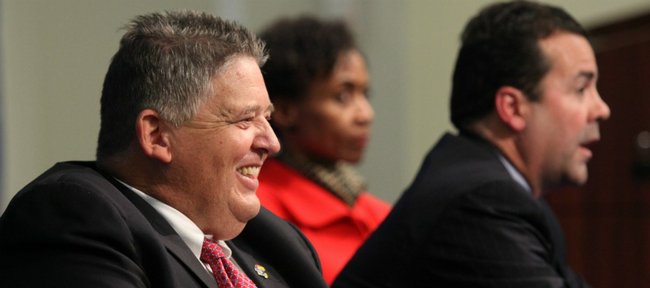 Friday evening, in Mrkonic Auditorium at Kansas University's Anderson Family Football Complex, new KU football coach Charlie Weis was asked a variety of questions on topics ranging from his time at Notre Dame and in the huddle with Tom Brady in the NFL, to why he came to Kansas or even had interest in becoming a head coach again.
While nearly all of Weis' answers both charmed and cut to the chase, one best summed up the spirit with which KU's 37th head football coach carried himself during his introductory news conference.
With his wife, Maura, and son Charlie Jr., sitting in front of him in the first row, Weis, 55, was asked what area of the KU program would be his top priority.
"The record," he said. "That's what I'm here to fix. Now, there's a lot of things that go into doing that, but who wants to be 2-10? I'm glad that's where the bar is to start, by the way. They won two too many as far as I'm concerned. It could've been a little bit easier."
And with that, the Charlie Weis Era at Kansas was under way. Part charming, part comedy show, part serious business, Weis spoke for nearly 45 minutes to a packed house that included several current KU players and a throng of media members. While the community surely will learn more about the man who owns four Super Bowl rings and spent five seasons as the head coach at Notre Dame, Weis offered up a sizable chunk of what he's about during his first appearance as a Jayhawk. The bulk of his message focused on family — both his own and that which he hopes to create within the walls of the KU football complex — but Weis also made sure to emphasize that he understood what was most important around here.
"The University of Kansas this year was 2-10," he said. "The other major school in the state is Kansas State, who was 10-2. I only have one question to ask: Why? Why is the University of Kansas 2-10, and why is Kansas State 10-2? I don't have that answer, but that is what I am here for... That is not acceptable in any way, shape or form."
For at least the next five years, Weis will work to close the gap between KU and Bill Snyder's program in Manhattan. Doing so figures to come as a result of all the things that made Weis a successful NFL assistant for 16 years, led him to the head coach's office at Notre Dame from 2005-09 and led to running the offense at the University of Florida this past season.
"I set out to find the best, and I found Charlie Weis," said KU athletic director Sheahon Zenger during his opening statement. "Coach Weis has tremendous experience and success at the highest levels of the NFL and collegiate football. He has an incredible football mind. He's disciplined, principled and a tireless worker. We believe he is the right coach at the right time to put Kansas in a position to raise the bar and compete in the Big 12 Conference."
According to Weis, who opened Friday's news conference by cracking a joke about the bad left hip he plans to have replaced during the next few weeks, the work will begin immediately.
"The first thing we are going to have to do is put these players through a grueling offseason to change their mentality," Weis said. "It is not going to be pleasant around here in the spring time. There are not many things I can promise, but I can promise you that. I have already told them 'to enjoy your holidays and have fun, because when you get to the middle of January, it is not going to be very pleasant.'"
As for Weis' to-do list, it begins with assembling a coaching staff. Weis said 80-to-90 percent of his staff was in place, but confirmed only one name. Reggie Mitchell, who coached running backs and served as KU's recruiting coordinator under former coach Turner Gill, will be retained. The rest — along with Weis' contract, which Zenger said would pay around $2.5 million per year for five years — will be finalized in the next few days. Weis said he planned to talk to all of KU's current assistants before finalizing his staff, and emphasized that, of all the valuable lessons he learned from his time at Notre Dame, the importance of one's coaching staff was paramount.
"I think chemistry on the coaching staff is a critical factor and sometimes very much underrated," he said. "I could give you a conga line of some of the top coaches that want in here, but the question is, are they going to fit? Are they going to work together? Can they work with me? Can they work with each other?"
Weis prides himself on being honest. Several KU players, who met with Weis for the first time earlier in the day and spoke with reporters after the news conference, said their new coach told them to expect brutal honesty at all times. Weis flashed a little of that on Friday, too, when talking about today's men's basketball game during which he'll be introduced to the crowd at halftime.
"I sat in the rafters for the KU-Kansas State basketball game last year, thank you very much," he said. "I've been promised my seats will be better tomorrow."
Not all of Weis' honest moments included a comedian's flare.
"I am not the greatest coach in the world," he said. "I am just an old ball coach. I was groomed under Bill Parcells and Bill Belichick, and the way I figure it is, they are both going to the Hall of Fame, so why should I try and reinvent the wheel? Why not copycat what they do?"
For Zenger, still in his first year as KU's AD, hiring Weis was not about delivering a shot heard 'round the world. He called the extra attention KU received during the past couple of days "icing on the cake," but emphasized that bringing in a man with Weis' reputation, education and determination showed the world that Kansas had made a commitment to football.
"The chancellor and I didn't feel like we needed a jump start," Zenger said. "We believed that we needed a power surge. That power surge is coach Weis."
If Weis has it his way, that surge will ignite Kansas football for years to come.
"We are going to be here at the University of Kansas until I am done coaching," Weis said. "And then I am going to be here with my wife and my daughter, while my son tries the trials and tribulations of coaching. I have said this to both the chancellor and Dr. Zenger, utopia is me walking away from here a bunch of years from now, you're getting rid of one Charlie Weis and hiring another one a lot cheaper."