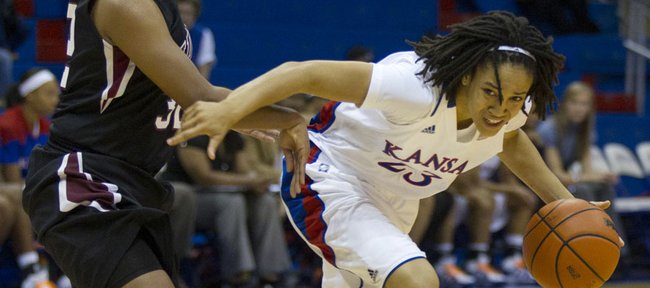 Kansas University women's basketball player Keena Mays will transfer from the school at the end of the fall semester, according to head coach Bonnie Henrickson on Friday, Dec. 9, 2011.
"Keena expressed to me her wish to move closer to home," Henrickson said in a statement released by KU.
"Kansas has been a great experience that I will never forget," Mays said in the statement. "Despite my memorable time here, I would like to be closer to my family and have decided to leave KU."
Mays, a sophomore from Arlington, Texas, started her first game of the season Thursday night, scoring a team-high 17 points to lead the Jayhawks over Wisconsin at Allen Fieldhouse.
She had a career-high 21 points in KU's previous game against Alabama. During her 42 games at KU, Mays averaged 7.9 points and 3.0 rebounds.
KU will host UMKC on Dec. 17.