Podcast episode
Kansas coach Bill Self talks to reporters following the Jayhawks' 88-80 victory over Long Beach State on Dec. 6, 2011.
Videos
KU vs. Long Beach State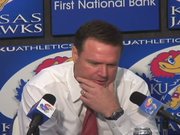 KU defeated Long Beach State, 88-80, on Tuesday, Dec. 6, 2011 at Allen Fieldhouse.
KU vs. LBSU
Sure, it was great that Thomas Robinson scored a career-high 26 points and dandy that Jeff Withey nearly recorded a triple-double with 13 points, 13 rebounds and nine blocks.
Those individual feats didn't have coach Kansas University basketball coach Bill Self smiling after his Jayhawks' entertaining, but sloppy, 88-80 victory over Long Beach State on Tuesday night in Allen Fieldhouse.
"We are the worst passing team I have ever seen," Self proclaimed after watching his team see a 19-point lead to shrink to four late, courtesy of a second half in which the Jayhawks committed 16 turnovers against just four assists. Overall, KU had 16 assists and 22 turnovers and had the ball stolen a whopping 15 times.
"It's ridiculous to watch," Self added. "You can look up and down the lineup, and there's nobody that values the ball at all."
Self was so miffed at his team's passing that he cautioned the fans what they might expect in Saturday's 2:15 p.m. home battle against No. 2 Ohio State.
"If we handle the ball like that, they can pick the score," Self said. "Let's just call it like it is. They will pick the score in our own building if we handle the ball like that. We have to do a better job. Elijah (Johnson, four turnovers, five assists, 20 minutes) ... unbelievable, the plays he made after he subbed back in after his sitting because of his fourth foul (with 16:40 left). Incredible he can make those plays when he's sitting over there watching and knowing the score and the circumstances in which we need him to give us some minutes to win the game. We have to have a lot better guard play. We need to have everybody play better.
"It will be a jailbreak," Self added of Saturday, "if we turn the ball over against Ohio State. They won't just be running out and scoring two points. They will be making plays that are ESPN Top-10 plays. We have to handle and pass it and maybe think the game a little better Saturday."
As far as the guards, off guard Conner Teahan scored a career-high 14 points off 4-of-5 three-point shooting, and Tyshawn Taylor had 12 points, five turnovers and four assists in 34 minutes.
Taylor showed no effects of a right knee injury he suffered at practice Monday.
"The doctors said he tweaked it," Self said, noting the injury was not believed to be serious. Also, Johnson had six points in 23 minutes. Freshman point Naadir Tharpe didn't play. Self said it was "coach's decision."
"We shot the ball great and shared it great early," Self said. "Thomas was on fire. We actually defended them pretty well except for ball-screen defense. We had so many mental breakdowns that allowed them to score 39 the first half (to KU's 51). In the second half, our defense was pretty good, but our offense sucks.
"The thing that's so pitiful," Self went on, "is of their 41 points the second half, 25 were off our turnovers. Our guards had zero assists, six turnovers the second half. It's hard to look good when you don't get shots. It is as miserable a performance the last 10 minutes as I've ever seen."
Robinson scored 18 points — just two off his previous career-high total of 20 — in the first half alone as KU raced to a 51-39 halftime lead. Teahan drilled four threes in the half and totaled 12 points, which actually surpassed the career-high of 11 he tied the previous game against South Florida.
Robinson (10-14 from field overall) was credited with perfect 8-of-8 shooting the first half, the official scorers giving him a turnover instead of a shot on a play in which he hoisted the ball toward the goal from about six feet out.
Robinson had 16 points and Teahan 12 off combined perfect 11-of-11 shooting as KU led by 19 points — 34-15 — with 9:30 left in the first half. However, Long Beach State, which was paced by T.J. Robinson's 17 first-half points, cut the gap to 10 twice — 41-31 and 43-33.
The 49ers, who trailed by 11 with 1:37 to play (83-72), were down by just four, 84-80, with 42.2 seconds left.
Taylor hit two free throws at :33.3 and Withey two more at :23.1, averting a shocking late loss. Another key stretch was with just under three minutes left. KU led, 77-72, when Robinson missed two free throws. Teahan rebounded the second, then after a deep Robinson miss, Teahan rebounded again. Taylor then drove for a basket and hit a free throw, and KU led, 80-72, at 2:09.
"The biggest play Conner made was when he got two offensive rebounds in one possession," Self said. "It led to a three-point play off two terrible shots. Conner made some good plays, but he got picked for a layup late, too. Our ball-handling is just atrocious."
KU did improve to 6-2; Long Beach State fell to 4-4.
"They have a good team, a fun team to watch," Self said of the 49ers.