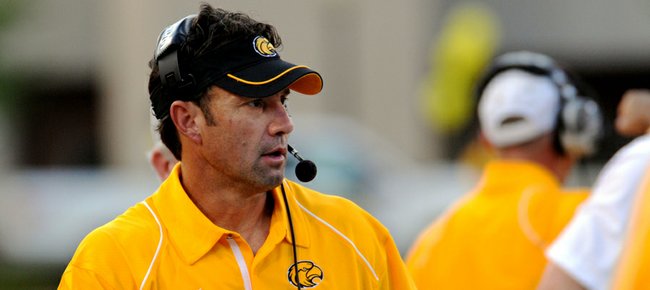 It turns out Southern Miss' victory against Houston in the Conference USA championship game Saturday might have been a major development in the coaching search at three universities, perhaps more.
At kickoff of Saturday's game in Houston, it looked all but certain that Cougars coach Kevin Sumlin had emerged as the clear-cut favorite at Texas A&M;, which fired coach Mike Sherman abruptly late last week.
Then the game began, and USM torched Sumlin's previously unbeaten Houston team, 49-28, making Southern Miss coach Larry Fedora a much more popular man with athletic directors across the country.
Fedora, now in his fourth season in Hattiesburg, Miss., had emerged as one of the top candidates at Kansas. Deemed by many to be a serious candidate for the Jayhawks both in 2009 and this time around, Fedora's Texas ties and Big 12 roots seemed to make him an solid candidate to replace Turner Gill at Kansas.
But now Fedora's name is being floated for just about every BCS opening, including A&M;'s, and KU's chances at snagging him appear to be up in the air. Mississippi, another school interested in Fedora heading into Saturday's game, had all but closed the book on hiring Arkansas State coach Hugh Freeze by Sunday night.
Kansas officials have been quiet throughout the first seven days of the coaching search and figure to stay that way until it's over.
Although Fedora remains in the mix for Kansas, his mass appeal elsewhere has to mean that other candidates are still alive for the KU job. Most popular among them are: Dave Christensen (Wyoming), Dave Doeren (Northern Illinois), Sonny Dykes (Louisiana Tech), Mark Stoops (Florida State defensive coordinator) and Dirk Koetter (Jacksonville Jaguars offensive coordinator).
Other names that have surfaced in connection with Kansas during the past couple of days include Auburn offensive coordinator Gus Malzahn and Wisconsin offensive coordinator Paul Chryst. SMU head coach June Jones, a man some have said would be a good pick for KU, appears to be the favorite at Arizona State.
Elsewhere on the coaching landscape, NFL guys Jim Mora Jr. and Herman Edwards recently have pushed their names for college jobs.
On a recent Seattle sports talk radio show, Mora said he'd be interested in openings at both Arizona State and UCLA. Mora has 24 years of NFL experience, including head-coaching stops in Atlanta (2004-06) and Seattle (2009).
Edwards, also a former NFL head coach (New York Jets and Kansas City Chiefs), is rumored to be interested in a number of openings.
Recruiting rolls along
Although the identity of the next leader of the KU football program remains a mystery, interim head coach Reggie Mitchell is doing his best to keep the train on the tracks while the Jayhawks attempt to fill their coaching vacancy.
This weekend, KU welcomed to town five members of the Class of 2012 for official visits that were set up before Gill was fired. Included among the visitors were a couple of junior-college defensive linemen, along with two of the top prospects in Texas, Wilmer-Hutchins High (Dallas) teammates, Damien Lawry, a 6-foot, 175-pound athlete, and safety LaDarrell McNeil, 6-1, 190. Wide receivers coach David Beaty is the lead recruiter for both.
Mitchell, who served as KU's recruiting coordinator the past two seasons, said many of the recruits he had contacted since Gill's firing said they understood that college football was a business.
"When you go to a school, you try to pick it because that's where you want to be, not because of who's coaching there," Mitchell said. "Right now, the big thing is to calm them down and say, 'Listen, there's gonna be a head coach hired (soon), give him an opportunity to come into your home and sell himself and sell his vision for Kansas.'"
While coming up with the pitch was easy, Mitchell said being convincing was a little more difficult.
"You're selling them something they can't see," he said. "So you just have to talk to them and calm them down and let them know that we're gonna find a guy who's going to take the program in the direction we all want it to go to."