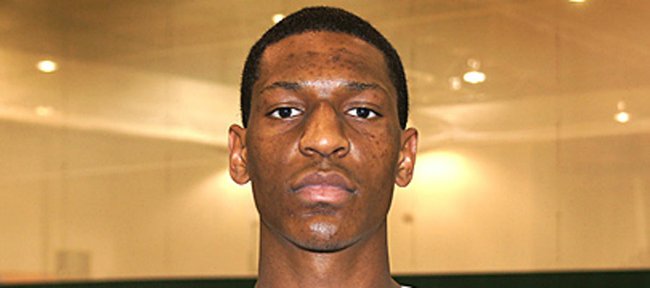 Virginia high school basketball sensation Andrew White capped one of the most memorable days of his life by scoring 23 points in Miller School's 80-55 home victory over Woodberry Forest on Friday night in Charlottesville, Va.
The game followed a pair of ceremonies in which the 6-foot-6, 210-pound senior small forward orally committed to play basketball at Kansas University — the first at a television station in nearby Richmond; the second in Miller School's lobby, prior to the game.
"It was a very exciting day. It's good to make my college decision and to know where I'm going," said White, Rivals.com's No. 56-rated player, who chose the Jayhawks over North Carolina State, Virginia Tech, West Virginia, Richmond, Texas, Georgetown and others.
"It's a great opportunity to focus on my game, relax, keep enjoying basketball, school and living a normal high school life," added White.
He said he chose KU primarily "because of the opportunity. It wasn't because of the hype that comes with Kansas. Seeing them play on TV, I see an opportunity to play as a freshman, and their style fits my strengths."
Specifically ... "I like the spacing of how they run their offense. They have multiple guards that have a lot of versatility. That's a skill I'd like to perfect. That system fits my game, my style," White added.
First-team all-stater White, who averaged 19.2 points and 7.0 rebounds a game his junior season, watched a batch of his finalists' games on TV with his dad, Andrew, Sr., the past few weeks, before making his decision.
"Coaches can tell you a lot, but when you can put your eyeballs on it yourself — when you can see the teams play and the coaches coach — it makes it more clear," Andrew White, Sr., said. "He made the decision totally independent, but I wanted to give him pros and cons.
"KU has a need for what he does. He's a jump shooter, a three-point artist. He also does well in the mid-range game. A lot of schools we looked at had slashers, but didn't have a lot of jump shooters which is what he has kind of developed into.
"KU has great, great players. But we could see him fitting in their system as a jump shooter. He can also get to the basket, and a lot of people like his rebounding ability. At 6-6, he could be a mismatch problem for teams not tall at the two. Andrew felt he fit in the best at KU," Andrew White, Sr., added.
Perhaps the only negative is location.
"It's a long ways from our home," said Andrew White, Sr., who works as a professional developer in Virginia. "We usually have 10 to 12 and as many as 40 relatives at our games. We are such a tight-knit family (including Andrew's mom, Sheryl; older sister, Andrias, and younger brother Jaire).
"It's the farthest of any schools recruiting him. But they made him feel comfortable. Coach Self, Danny Manning, coach (Joe) Dooley and (Kurtis) Townsend made him feel comfortable like family. The distance is something we'll work out as we take on this different animal," he added of college.
White's high school coach, Scott Willard, noted that he has known assistant coach Dooley a long time.
"They recruit quality kids and do a great job of developing players. They develop guards all the way to big men," Willard said. "Andrew is one of the top shooters in the class. He has NBA range and a college-ready body at 6-foot-6. He works out at 6 a.m. in the gym every single day and doesn't tell anybody about it, doesn't want anybody to know about it. He's the hardest working kid we've had here. He'll be a hard-working, team-oriented, really quiet, unassuming kid who can shoot the lights out."
The soft-spoken White, who is hoping to attend a KU home game this winter, was on hand for the Legends of the Phog exhibition involving KU's former NBA players.
"It was fun to see all the people on campus. It was exciting to see what basketball means to the people," White, Jr., said, wanting to conclude by thanking several individuals.
"My coaches, teammates and family members. I've seen some kids without the support ... it affects their development. I always had somebody willing to take me to the gym and always had somebody willing to rebound for me and help me out. It's a great advantage when you are trying to develop as a player. I want to thank everybody who had anything to do with my recruitment and look forward to going to KU," he concluded.