Originally published December 1, 2011 at 9:56 p.m., updated December 2, 2011 at midnight
Document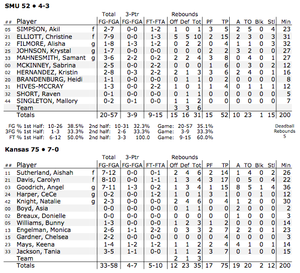 If Kansas' 75-52 victory against Southern Methodist taught the Jayhawks anything, it was that they can tough it out with the physical opponents.
Junior guard Angel Goodrich has been worried about her team's reputation.
"I think that's what we need because we're kind of like, soft," she said after Thursday's game in Allen Fieldhouse. "We need aggressive teams to show our toughness."
The Jayhawks (7-0) led early and never trailed. There was plenty of contact between players, but Kansas had enough easy buckets to sustain a comfortable lead throughout the game.
The trio of senior Aishah Sutherland and juniors Goodrich and Carolyn Davis combined for 46 points on 22-33 shooting.
Sutherland said that as long as the Jayhawks aren't affected by physical play in the paint, they will be ready for other teams who may want to exploit any kind of fragility.
"It's not a weakness of ours, and it's not going to break us down, whatever the play," Sutherland said.
Late in the first half, Davis and SMU's Kristin Hernandez got into a verbal spat after a tussle for a rebound. The altercation ended in a foul on Hernandez and a technical foul on Davis, much to the crowd's chagrin.
The play didn't affect the score as the Mustangs (4-3) missed both free throws and still trailed by seven, but that was the kind of backbone the Jayhawks showed. Despite her teammates' talk of toughness, Davis said the incident was out of character and said she won't get into that situation again.
Davis scored 11 of her 17 points in the second half after she started responding to the defense and the post started opening up. She didn't even start the second half, and Kansas opened the period with a 10-3 run to extend the lead to 43-32. Davis only had to come in with 12:14 to go.
"It was hard being on the bench, but I was loving it," she said. "My teammates were playing awesome and I was like, 'Just let them keep playing, I don't need to get in right now.'"
The Jayhawks scored 50 points in the paint compared to the Mustangs' 22. Junior Monica Engelman, who came off the bench for a second straight game, contributed seven points, as did sophomore Tania Jackson.
Goodrich came up big on both ends, dishing out eight assists and getting four steals to go along with her 15 points.
The Jayhawks, who already lead the country in field-goal percentage, continued their torrid pace, hitting 56.9 percent of their shots. They also held the Mustangs to 35.1 percent.
As well as Kansas played, coach Bonnie Henrickson said the team's turnovers still bother her. Kansas lost the ball 20 times on Thursday and hasn't had fewer than 17 turnovers all season.
"We get lackadaisical," Henrickson said. "We always hope our passes will get there, and we can't throw those balls."