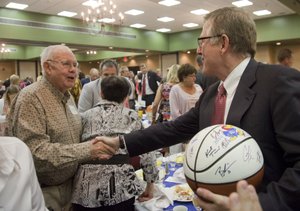 When the day comes that James Naismith's original typewritten rules of "Basket Ball" find their home at Kansas University, transforming Allen Fieldhouse into a year-round attraction and boosting its stature as a recruiting tool both for basketball players and students and employees, folks just may want to thank Margaret McReynolds.
That would be Mrs. McReynolds, David Booth's calculus teacher at Lawrence High School.
Booth, a 1964 LHS graduate, entertained more than 550 attendees at Friday's Community Education Breakfast by sharing tales of how he purchased the rules for $4.33 million, to be displayed at KU; how he founded a financial firm that today has more than $200 billion under management; and how his name now graces the University of Chicago Booth School of Business, which he dubbed "the No. 1 rated business school in this or any other galaxy."
But without Mrs. McReynolds, he suggested, such things might never have happened.
Booth says "nobody had a bigger impact" than her because back in 1964, he'd found himself humiliated in her class after failing a test that otherwise would have secured him credit for first-semester calculus at KU.
"I did what any self-conscious, geeky, 16-year-old kid would do," he told the crowd at the Lawrence Holiday Inn. "I transferred out."
Apparently student subtraction wasn't his former teacher's favorite subject.
"I'm sitting in my new class, the first day, and Mrs. McReynolds walks in," Booth said. "The next thing you know, she's motioning me to come out in the hall. So I did. She says she wants me back in her class.
"Well, that's all it took. I mean, she wanted me back. So I grabbed my books, transferred back, and … that was a transformative event because in my firm, everybody has to have a pretty strong mathematical background. And so if she hadn't shown the initiative to go find me, and pull me out, I don't know what would have happened."
Booth's Lawrence roots, business success and charitable endeavors led organizers to invite Booth to be the featured speaker at the breakfast, the 10th annual event to raise money for the Lawrence Schools Foundation. Friday's event raised $61,000.
Booth came to Lawrence in 1960, becoming a member of the first graduating class at West Junior High School. He recalls the emphasis the community and nation placed on math and science education, following the Soviet launch of Sputnik. He also remembers listening each morning to Principal Neil Wherry's morning announcements at Lawrence High, the ones the administrator always closed out with a gravelly phrase, "Lawrence ranks high."
"I thought it was rather bizarre at the time," Booth said, "but now I think he was very clever. To use a tagline like that every day, it sinks in. There can be some great subliminal messages in all this, like, 'You can be successful,' or, 'We're counting on you.' That was the uplifting message I got from him. …
"When people … ask how we got to be successful, I don't know how to answer that. I never dreamed I wouldn't be successful."
Now he and his family members are busy repaying debts to those who helped along the way. Donations to the University of Chicago, KU and the Lawrence Schools Foundation are among them, of course, but they're certainly not all.
Among the others: a scholarship fund in the name of Mrs. McReynolds, for students attending KU.