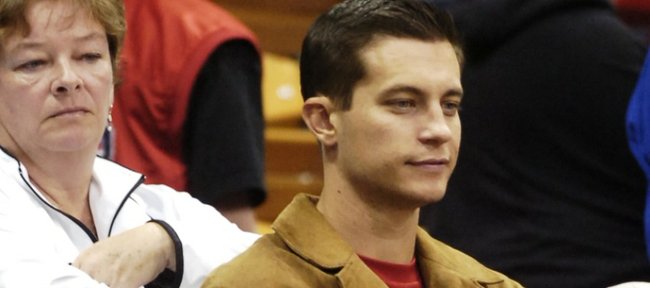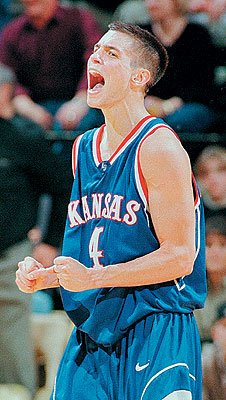 Feature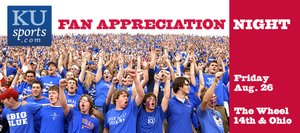 You are invited to our KUSports.com fan appreciation BBQ!
Ryan Robertson, who played combo guard at Kansas University from 1995-99, is looking forward to seeing a batch of his former teammates at KU's Legends of the Phog basketball exhibition game Sept. 24 in Allen Fieldhouse.
He admits to being especially enthused about reconnecting with the most famous of the bunch — future NBA Hall of Famer Paul Pierce.
"Paul promised me in college when he was a sophomore he would buy me a Range Rover if he made it in the NBA. I'm crossing my fingers he'll have one there for me," Robertson joked Wednesday.
On a serious note ... Robertson said Boston Celtics forward Pierce is definitely fired up about playing in the 4 p.m., game that is expected to feature most of KU's 14 current NBA players.
"I've heard from Paul, who has been emailing back and forth," Robertson said of Pierce, currently on a tour of China. "They are coded and short," he added of the emails. "He'll say, 'Are you coming back that weekend?'
'I want to come back.'
'I will be there.'
'See you there.'
"Tell the people anybody who attends will get a free Paul Pierce autograph. I'm kidding. I'm kidding," Robertson added, laughing.
Allen Fieldhouse figures to be packed for the exhibition on KU's football bye weekend whether or not the returnees stick around to sign autographs. KU's Williams Fund officials indicated the phone lines were ringing briskly early Wednesday, the first day fund members in the Hall of Fame, Champion and All-American membership levels as well as KU students could order tickets.
"Anytime you have an opportunity to watch old pros and new pros ... to watch Paul Pierce in Allen again is worth the price of admission ($20 for adults; $10 for students and youth), not to mention raising money for a Jayhawk who died tragically and unexpectedly," Robertson added of former KU assistant Neil Dougherty. "We'll have a great time."
Robertson, who played in one NBA game for the Sacramento Kings in 1999-2000, and also played in Holland, Greece and France before retiring after the 2004-05 season, said he's not planning on playing in the game.
"I've not played professionally for seven years. I can't compete against the guys coming to that game," said Robertson, 34-year-old regional sales director for Goldman Sachs in St. Louis. "If they need me to step in, it'd be an honor, a pleasure to play. It's summer. It's golf season. Coach (Bill) Self understands that. I'm a golfer," added Robertson, who is a 3-handicap.
Ryan on Wednesday had news to report on his wife, Andrea, who won the 2010 Mrs. America contest and was first runnerup at the Mrs. World pageant. She won last weekend's Lake Saint Louis triathlon and, in fact, is a nationally-ranked triathlete competing for Team USA.
"She's the athlete of the family," Robertson said.
Notes
• Most of KU's current NBA players are expected to attend — and compete in the Sept. 24 game. KU's current pros are: Pierce, Cole Aldrich (Oklahoma City), Darrell Arthur (Memphis), Mario Chalmers (Miami), Nick Collison (OKC), Drew Gooden (Milwaukee), Xavier Henry (Memphis), Kirk Hinrich (Atlanta), Darnell Jackson (Sacramento), Marcus Morris (Houston), Markieff Morris (Phoenix), Brandon Rush (Indiana), Josh Selby (Memphis) and Julian Wright (Toronto).
• Gooden and Hinrich likely will not be on hand. Gooden is celebrating his 30th birthday on the day of the game. Also, Hinrich's wife is due to deliver a baby that weekend.
• No word on whether any of the former Jayhawks now coaching at North Carolina, including Roy Williams, will be on hand.
• Former KU coaches Larry Brown and Ted Owens, who are currently not in coaching, will serve as the honorary coaches
• Ticket sales continue today for KU students and the top levels of the Williams Fund. All remaining Williams Fund membership levels may order tickets starting Aug. 29. The public may purchase tickets starting Sept. 6. Tickets may be ordered via the KU Tickets Office online or by calling 800-34-HAWKS. Parking is free.