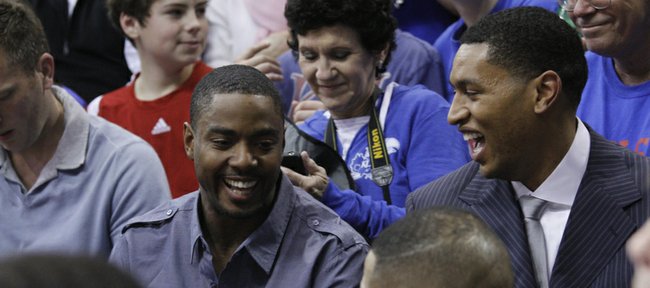 Former Kansas University basketball point guard Aaron Miles will be playing in Russia's top professional league this season.
The 6-foot-1, 175-pounder, who competed for the Reno (Nev.) Bighorns of the NBA Developmental League last season, has signed a contract with Krasnie Krilya, a franchise based in Samara, Russia.
Terms of the deal were not disclosed.
Miles, who is currently with the team at its training camp in Italy, is the third KU player to compete in Russia. Sasha Kaun plays for CSKA Moscow and Keith Langford for Khimki Moscow.
Miles, 28, averaged 15.3 points, 8.7 assists, 4.1 rebounds and 2.5 steals per game for Reno last season. KU's all-time assist leader has also played professionally in Greece, Spain and France.
KU has had several players reach agreements with foreign teams the past couple of weeks. Tyrel Reed will play for VOO Verviers-Pepinster, a member of the Ethias League in Verviers, Belgium; Brady Morningstar for A.G.O. Rethymno, which plays in Greece's top league and is based in Crete; Russell Robinson for JSF Nanterre, which plays in France's top league and is based outside Paris; and Sherron Collins, who has joined Turkish League team Hacettepe Universites, based in Ankara, Turkey.
Miles' new team also recently signed U.S. natives Jarvis Hayes and Joe Alexander.