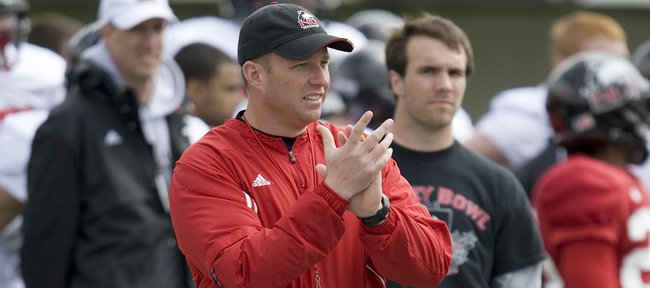 Likeability, strong communication skills, an organized mind, a relentless work ethic, steady self-confidence, thick-enough skin to bounce back from rejection, the ability to, as Alec Baldwin so famously said, "A-B-C. A-always, B-be, C-closing. Always be closing. Always be closing."
The same qualities that make for a successful, $80,000-BMW-driving salesman also come in handy for a college football recruiter, but they rank behind the most important, vastly underrated skill.
Evaluating talent, even if it must be from watching poorly lit, shaky video, ranks as the most important factor in landing strong recruits. It also plays a big part in a football coach succeeding in his first job at a new school. He has to learn quickly which players to put on the field and where to put them.
Based on the job he did as recruiting coordinator for Mark Mangino during his four years on the Kansas University football staff, Dave Doeren has an excellent chance to make a smoother transition than most in his first year at Northern Illinois and first as a head coach.
Doeren served as an assistant coach at Drake (1995-97), USC (1998-99, graduate assistant) and Montana (2000-2001) before coming to Kansas in 2002, Mangino's first season. After serving as co-defensive coordinator under the modest and magnificent Bill Young in 2005, Doeren spent five seasons at Wisconsin, the final three as defensive coordinator.
Asked in a recent telephone interview to name recruits for which he was the lead recruiter at KU, Doeren didn't remember them all. He did remember the unforgettable ones.
Kansas City and Dallas were his primary recruiting areas, and on the defensive side alone he listed James Holt, Kevin Kane, Joe Mortensen (from Oakland, Calif.) and Mike Rivera.
Not impressed? OK, the next three names should close the deal: Second-team All-American defensive tackle James McClinton, NFL safety Darrell Stuckey and Aqib Talib, named by NFL Alumni the best defensive back in the league in 2010.
The second game of Doeren's head-coaching career is scheduled for Sept. 10 in Memorial Stadium against Turner Gill's second Kansas team. After that, it's off to Wisconsin, an interesting coincidence for Doeren, who inherited the schedule.
The Kansas game will be a homecoming for him. He starred at Bishop Miege before continuing his football career at Drake. Friends and family members will be out in full force.
Before rejoicing that Doeren didn't recruit most of the players on the roster, realize that the Huskies have plenty of talent returning from an 11-3 team that drilled Fresno State, 40-17, in the Humanitarian Bowl.
Senior quarterback Chand Harnish will help Doeren's transition. Last season, Harnish rushed for 836 yards and seven touchdowns, passed for 2,530 yards and 21 touchdowns and threw just five interceptions.
"Tremendous competitor," Doeren said. "Very intelligent. Great leader. Very mature. I'm his third head coach, so he's been through some change. I know all our players look up to him."
Often, teams take a step back in the first year after a coaching change, but that hasn't dimmed Doeren's optimism.
"Some of that depends on what players you have back," Doeren said. "A lot of times you'll see coaching changes because the team wasn't very good, or maybe it was a senior-laden team. We return a lot of players."
Doeren and his staff spent the summer poring over video, learning the team's personnel and that of opponents.
What does he expect from Kansas?
"You would think the second year into the program they'd be better," he said. "The kids should know more what to expect. The staff has had a chance to recruit some more guys. They added a good coach in (co-offensive coordinator, receivers) David Beaty. I think he's really good. I think he can help them. They also have made a change defensively (from retired Carl Torbush to promoted Vic Shealy at D-coordinator). It will be interesting to see if those changes equal wins."
Doeren thought back to the 2-10 first season at Kansas and the one that followed.
"I know when we took over, Year 2 was the bowl game," he said, referencing a lopsided loss to North Carolina State in the Tangerine Bowl. "That game allowed us to practice more. Those practices are priceless for the development of a team."
Doeren said that when Mangino's staff took over, KU was ranked, "119th in defense," and ranked fourth in his final season, 2005. In Young's final season as defensive coordinator, Kansas went 12-1 and won the Orange Bowl. Doeren learned a lot from Young and from Mangino.
"The experience taught me to stick to your guns and your beliefs, and good things will happen," Doeren said.
Gill is coming off a 3-9 first season, but with a brutal schedule that includes facing each of the other nine Big 12 foes and a Northern Illinois squad likely to be favored in Lawrence, those extra practices from which bowl teams benefit won't yet happen for Kansas.
In contrast, Doeren likely will go bowling for the eighth time in nine seasons.