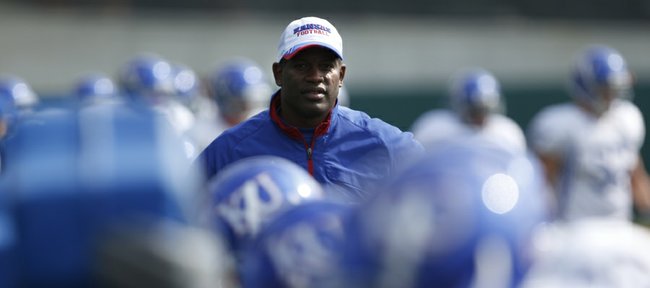 They won't put on pads, aren't planning on picking up a football and certainly won't be game-planning for their first opponent, which comes to town one month from now in the form of the McNeese State Cowboys.
But today is the day the 2011 college football season officially begins at Kansas University, as the Jayhawks report to fall camp this afternoon with the ceremonial move into Naismith Hall.
That's where the Jayhawks will call home for the next few weeks, with official practices set to begin Thursday and two-a-days slated to start Aug. 10.
No matter how good or bad the previous season was, the start of each new football season typically is met with optimism, excitement and anticipation from fans, coaches and players.
On Tuesday, Twitter was abuzz with current Jayhawks Tweeting about their excitement for the season's first official practice. Some talked about how they expected sleeping to be a difficult task Tuesday night.
KU coach Turner Gill has been looking forward to today ever since the final gun sounded against Missouri last November. Never was that more obvious than last week in Dallas, where Gill seemed to operate with an extra dose of excitement about the upcoming season.
While certain things — such as staying injury-free and uncovering which players are for real — seem to be the aim of every preseason camp, KU's 2011 camp has some pretty specific storylines worth watching. Here's a look:
1. The Quarterback Race
For a couple of seasons in the late 2000s, KU entered fall camp with an answer to the game's most important question. The popular "Who will handle QB duties this fall" was answered with the joyous words, "Todd Reesing," and, with that, all was well. Now, two years removed from Reesing's final fall camp, the Jayhawks are still searching to replace him. Last season, Gill started three different guys under center in Kale Pick, Jordan Webb and Quinn Mecham. All three struggled and the offense did, too. This year, the coaches say the goal is to pick one and stick with him, and the early leader appears to be Webb, who enters camp a year older and wiser. While Webb improved a lot during the offseason, both Gill and offensive coordinator Chuck Long said it's too early to count out Mecham or incoming freshmen Brock Berglund and Michael Cummings.
2. New-Look Defense
Last year, the Jayhawks entered fall camp under defensive coordinator Carl Torbush. With Torbush retiring this spring to focus on his fight with prostate cancer, the defense will be run by cornerbacks coach Vic Shealy and defensive line coach Buddy Wyatt. Both coaches have impressive resumes and have been at their share of big-time programs. Knowing what to do won't be a problem. Getting the team to do it will be the challenge, although Shealy and Wyatt will have much greater speed and depth at their disposal than Torbush did in 2010. In addition to scouting the way the new defensive bosses run things, it also will be interesting to watch what they run. There has been some talk about the Jayhawks switching to the 3-4, which employs three defensive linemen and four linebackers instead of the opposite. Such a move could benefit the team. KU has good depth, talent and experience at linebacker and a ton of question marks on the defensive line. Both Shealy and Wyatt have said they plan to tweak the defense a little this season, with simplifying it being the main objective.
3. Guess Who's Back?
Several players who missed part or all of 2010 because of injuries head into preseason camp healthy and ready to return. At the top of this list are former starters Jeff Spikes (offensive line, Achilles' tendon), Trevor Marrongelli (offensive line, leg) and Huldon Tharp (linebacker, foot) along with red-shirt freshmen Brandon Bourbon (running back, leg) and Ed Fink (linebacker, leg) and senior Rell Lewis (running back, knee). Two others who missed most of 2010 but could play key roles this season are junior defensive end D.J. Marshall, who, late last year, was declared cancer-free after a battle with Hodgkins Lymphoma, and sophomore safety Keeston Terry, who played in the first three games of 2010 but missed the rest of the season with a leg injury. Terry is projected to start at free safety.

4. Fab Freshmen
In 2010, Gill played just a few true freshmen. A week ago in Dallas, he said the reason for that was that he didn't see a ton of young guys who had shown they were ready to play at the Division I level. That won't be the case with this year's group. Not only did Gill bring in this talented crop of 27 freshmen and junior-college transfers to add competition, he brought them in to play. At signing day in February, Gill said he'd likely play about half of the incoming class at some point during 2011. Some could become starters, others could be backups and still more could find their way onto the field through special teams. Based on what they've shown so far, here are the top candidates for early playing time: running back Darrian Miller, defensive back Adonis Saunders, running back Anthony Pierson, defensive back Victor Simmons, defensive end Michael Reynolds, wide receiver JaCorey Shepherd and place kicker Alex Mueller.
5. Too Hot To Trot?
With recent temperatures soaring above the 100-degree mark on a regular basis, keeping an eye on the heat will be a must for the Jayhawks this fall. Asked in Dallas if he liked training in triple-digit temperatures, Gill was honest. "No, that's a little bit too much," he said. "If it can be in the low 90s, that's hot enough." Not only will the extreme heat be cause for concern, it also will give the coaching staff an easy opportunity to see who's in good shape and who isn't as they race toward the Sept. 3 season opener. Gill, several players and the strength and conditioning staff have said the Jayhawks enter fall camp in better shape than they were last year.
6. Brock Watch
People may be tired of hearing about him, but fans of the program will want to know what he's up to this fall. Freshman quarterback Brock Berglund will be a popular player as camp unfolds, even if he doesn't work his way into the race to become KU's starter. The list of things people will be watching most closely regarding Berglund include: Will he show up in the first place? How will he mesh with his teammates? Will his teammates welcome him? And, finally, is the guy as good as advertised? The answer to most of those questions should come quickly.