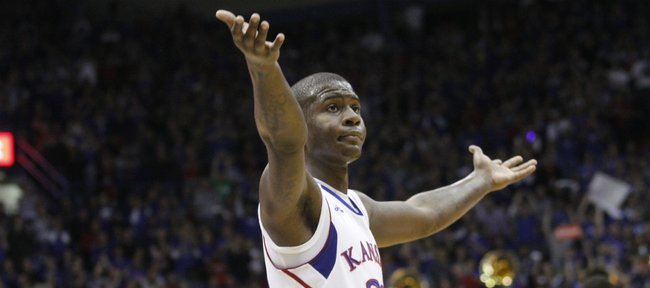 Reader poll
Markieff Morris

29%

453 votes

Josh Selby

7%

121 votes

Marcus Morris

63%

983 votes
1557 total votes.
Kansas University freshman Josh Selby, who had been training at Impact Basketball in Las Vegas a week-and-a-half while assessing his NBA options, decided after a particularly productive practice Wednesday that he'd be playing for pay next season.
"After working out, I told my mom, 'I'm ready for the NBA.' She said, 'All right,''' the 6-foot-2 Baltimore native said Thursday, a few hours after posting on Twitter that he'd decided to enter the 2011 NBA Draft.
"It was kind of a 50-50 deal," added Selby, who said his mom, Maeshon, called KU coach Bill Self on Thursday morning to inform him of the decision. "I wanted to leave, but I also wanted to make sure it was the right decision. I came out here and produced. I was getting back to my old self, looking good. I decided it was the right time to go to the NBA."
Wearing a blue and black pair of KU adidas shorts and a white shirt, Selby spoke Thursday in a one-on-one interview with a Vegas Seven magazine reporter, who was asked to track down Selby for the Journal-World.
"I don't know. It really doesn't matter where you start, it just matters where you finish," Selby said, asked where he thinks he'll be selected in the June draft. "If it's first round, second round, I'm going to try my best to do what it takes to be an all-star."
Selby said he had no timetable to hire an agent, but already was looking at one possible representative.
Of his year at KU, during which he averaged 7.9 points (off 37.3 percent shooting) and 2.2 assists in 26 games, Selby said: "It matured me. I saw so many things. I went through so many things. I grew up a lot as a person, and it made me more humble, yet hungry. That's why I'm out here working," added Selby, who was slowed the second half of the season by a foot injury.
He's 100 percent now, evidenced by his finishing two vicious dunks in the second of two-a-day drills Thursday. Selby, whose first basket at KU resulted in a made three against USC, also hit several threes, his last shot in the Thursday afternoon workout a trey.
"I think I've improved on everything. My speed. My bounce is back, my shot is looking good. My handles are good," said Selby, quick to identify the one highlight of his KU career.
"Playing in that first game, that was my best experience," Selby said of a 21-point outing against USC in Allen Fieldhouse. "I thought the rest of the season would (be as productive), but things don't always work out that way. Maybe that injury and everything (nine-game NCAA suspension) needed to happen to humble me a bit, to make me more mature. Now I'm on to a new chapter."
Selby said in recent days he'd noticed negative comments from some KU fans on Internet message boards regarding his decision to work out in Vegas and consider turning pro after a so-so freshman season.
"There's a lot of fans that have said some negative things. I didn't know that many KU fans would say that," Selby said. "I don't know what it is, but all it is doing is creating a monster. It's going to make me work even harder. That's what I like to do is prove people wrong."
Earlier on Twitter, he said he wanted "to thank all the KU fans who supported me through everything and all the fans who (are) doubting me. I will miss the fieldhouse."
KU coach Bill Self said he approved of the decision and wished Selby the best.
"Of course it would be nice to have a player as talented as Josh back," Self told the Journal-World. "On the flip side, it gives somebody else the opportunity to substitute his minutes and perform at a high level.
"I think he can go first round. I think he has first-round talent. It depends how he does in the individual workouts (with teams).
He continued: "I don't think this decision Josh made should surprise anybody. We thought it would be the result all along when he went to work out in Las Vegas. I think Josh thought it would be the result, and his family thought it would be the result, but it would not be right to make that final until he got some feedback (in Vegas). We, as a staff, totally support Josh's decision, and we also hope our fans support it as well."
Self said Selby battled adversity at KU.
"I never coached a kid that went through as much stuff his freshman year as Josh has — everything from a broken hand to a nine-game suspension to missing 20 practices and a stress reaction in his foot that limited his movement for the remainder of the season," Self said. "He fought through it and certainly played through injury and did everything within his power to give our team the best chance to succeed.
"Right now, from reports we are getting, Josh is playing at a very high level. I wish Josh would not have had to deal with all those things, like most players don't have to deal with them, but I do think through this he's become better prepared for real life. Up until his foot injury, Josh was a guy who averaged 12 points a game and was just getting very comfortable for us. For him to deal with the injury was tough on him, but he feels good now and should be 100 percent and back to the explosive guy that he is as he works out for NBA teams."
Selby said he would not be returning to Lawrence the remainder of the semester.
Self said KU would not lose any points in conjunction with the NCAA's academic progress report.
"Josh made above a 3.0 (GPA) first semester and worked with his professors to complete his work second semester," Self said. "I feel good about Josh leaving knowing he took care of his business the way that he should have taken care of it.
"Kids do leave before the year is out. If it happens, there have to be arrangements to finish coursework or do accelerated work."
No change in policy
Self, who has had Selby and Xavier Henry leave KU after just one season, will be willing to continue to sign possible "one-and-done" players.
"The thing is, you don't ever know," Self said. "We have had one-and-done guys stay three years. We've had four-year guys leave after two. I think rules will change regarding that as well (players being forced to stay two years in next NBA bargaining agreement). The bottom line is, you never know."
Future without Selby
KU has perimeter players returning in Tyshawn Taylor, Elijah Johnson, Royce Woolridge, Travis Releford and Conner Teahan, to go with newcomers Ben McLemore and Naadir Tharpe. "We hope to still sign at least another guy in the backcourt and one in the frontcourt. There are no negatives to this," Self said.
Peer impressed
Ohio State guard Jon Diebler, who is working out at Impact Athletics, on Selby: "Everyone knew he was that talented, so there was always that possibility. He's a great player, especially coming out of high school. He's very vocal. He pushes guys. He's a great guy, a cool guy."
Joe Abunassar, owner and lead trainer at Impact Basketball on Selby:
"I see an extremely talented player, very, very good player. This is my 15th year of doing this stuff, and I've seen very few guards with the qualities that Josh has. I didn't follow him all year, but I think missing all those practices took him out of rhythm. Let's face it, Kansas had an outstanding team that was playing some really good basketball. Coach (Self) went with his rotations, and that's the way it worked out. Kansas had a ton of talent and got into a rhythm while he was out."
— Vegas Seven magazine reporter Andy Samuelson contributed to this report.