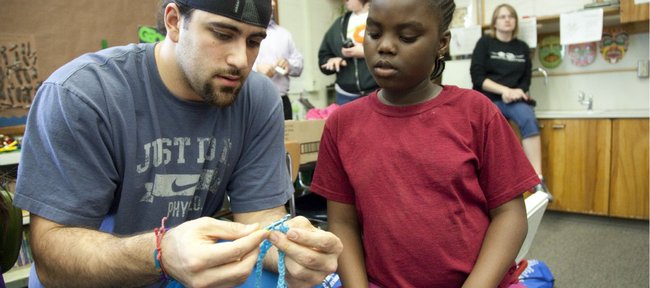 At 6-foot-2, 252 pounds, with blue gym shorts, a backwards cap, a Nike T-shirt and an bulky bandage around his left knee, former Kansas University linebacker Mike Rivera hardly looked the part of a crochet teacher at Hillcrest Elementary on Wednesday.
But give the man a couple of needles and some yarn, and the imposing member of the Miami Dolphins instantly transforms into a master crochet artist capable of banging out a stocking cap in a variety of styles and colors.
"My first hat took 15 hours to make," said Rivera, between sessions with the 8- and 9-year-old students. "Now, I can make one in an hour."
Rivera first picked up his new hobby during a recent trip to Guatemala with a friend. He spent a couple of weeks volunteering at a school in the Central American country and has since returned the favor in the states. His first trip to Hillcrest, for an after-school program run through the Boys and Girls Club of Lawrence, came a week ago, when he introduced the world of crochet to the 13 boys and girls who signed up for the voluntary class. He returned Wednesday to help them take their talents a step farther.
"I'd never heard of that thing," said Louis Singman, 9, asked why he chose to sign up. "I just thought it would be cool to try it."
Added Enoch Kalonda, 9, a native of Congo who has been in the U.S. for four years: "I knew how to do it a little bit, but I didn't know how to make a hat. He taught me more than I thought I could learn."
Back home in Africa, Kalonda's parents routinely used crochet to make garments for friends and family.
Wednesday's session, which included treats and drinks brought by Rivera and his mother, Judy, was nothing out of the ordinary for Rivera, a 2009 KU graduate and three-year starter. Throughout his career with the Jayhawks, Rivera was know for his participation in student-outreach programs. He was honored with the KU Community Service Award multiple times and, now that he has joined the professional ranks, he said he has found it even easier to contribute to society in a positive way.
"You just have more time," he said. "In college, you've got a full class load and a football schedule. Right now, with the (NFL) lockout, we have time. And I always try to fill my time with activities. I'm sure my teammates would give me some flak for this, you know, a big football player doing crochet is 'not cool,' but it's still fun for the kids."
The children who attended Wednesday's crochet class — they'll return next Wednesday for another run — had no idea that Rivera was a former KU and current NFL athlete.
In fact, Rivera introduced himself only as "Michael," a name that some of the students quickly transformed into "Michaelangelo" when they needed help.
How fitting.
The NFL's ongoing labor dispute encouraged Rivera to return to Lawrence to work out. After signing with Chicago as an undrafted free agent in 2009, Rivera joined the Tennessee Titans organization and spent the '09 season on the Titans' practice squad.
He landed with Green Bay in 2010 and was on the Packers' practice squad until the second-to-last week of the regular season, when he joined the Miami Dolphins. He spent the final week of last season on the Dolphins' active roster and hopes to continue the steady climb when training camp rolls around this summer.
"Everything after college is just icing," Rivera said. "I'm just gonna ride this as long as I can."