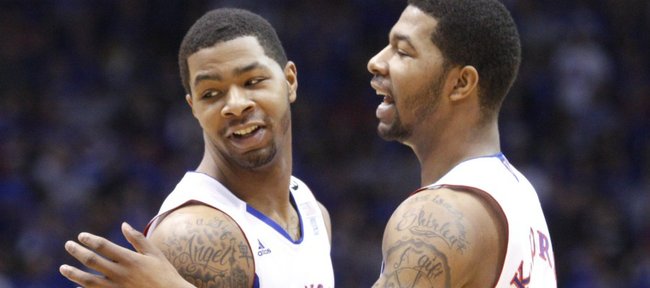 Kansas University juniors Marcus and Markieff Morris are headed to the 2011 NBA Draft with the blessing of coach Bill Self.
"We've won a ton of games in the last three years, and the twins were a big part of that. When the time is right, the time is right, and certainly now the time is right for those guys to go onto the next level," Self said Thursday.
Self said in a phone interview —there was no news conference because the twins' representation, Rival Sports Group, LLC, issued a release without KU's knowledge Thursday afternoon — that the Philadelphia forwards are "solidly in the first round (of the June draft)."
"I am proud of Marcus and Markieff for the development and improvement they made, not only off the court, but on the court in their three years here," Self said. "They have been an absolute joy to coach and performed at a level to give them the opportunity to leave and enter the NBA Draft after three years.
"We not only wish them the best moving forward, but also 100 percent support this decision for them to enter."
Self said the decision "certainly came as no surprise after they made the trip to L.A. (last week to meet with an aspiring agent)."
Big 12 player of the year and second-team consensus All-American Marcus Morris averaged a team-leading 17.2 points and 7.6 rebounds a game last season. He's projected as No. 15 pick in the first round of the 2011 draft by draftexpress.com.
Markieff Morris led the Big 12 in field goal percentage (58.9) and rebounds (8.3 per game) while averaging 13.6 points a game. He's projected as No. 19 pick in the first round by draftexpress.com.
"This was one of the most difficult decisions we have ever made," Marcus Morris said. "Our three years at KU have been great — the fans, Allen Fieldhouse, the games, but most importantly, the coaches and my teammates. We accomplished a lot together and learned even more with our coaching staff.
"The support the fans showed us can never be matched," Marcus added. "We appreciate everything they did for us while we were here. When we say 'F.O.E'., we are saying 'Family Over Everything' and that includes the Jayhawk Nation."
He stressed that, "it was a difficult decision but I feel it's the right time for me to realize my dream to play in the National Basketball Association. I consider it a privilege to have had the opportunity to play for coach Self and his staff."
Noted Markieff: "This decision was tugging at both our hearts. Coach Self thinks this is a good time and we feel this is the best for us and for our family. We will always be Jayhawks and be part of this family.
"I would like to thank the fans for their support over the past years. Some of my best experiences have been at KU and I'm thankful for my teammates, coaches and all the people that support KU."
The twins helped KU to a 95-17 record in three seasons. KU won three Big 12 regular-season titles, two postseason tourney crowns. They advanced as far as one NCAA Elite Eight.
"As I move on to the professional stage of my career, I will always remember my time as a Jayhawk," Markieff said. "Playing here has prepared me for the opportunity to have a successful career in the NBA."
Rival Sports Group, LLC is a full-service management firm based in Beverly Hills, California. Tony Dutt is the NBA agent working with Rival Sports Group who will handle their contract negotiations.
Richard Gebbia, CEO of Rival Sports Group said: "We are pleased to have the Morris twins aboard to represent their interests as professional athletes. They are outstanding young men and have a bright future ahead of them in the NBA and beyond."
Jerome "Pooh" Richardson, President of Rival Sports Group's Basketball Operations and retired 11 year NBA Veteran added: "The Morris twins have limitless potential as professional basketball players."
No presser this time: KU coach Bill Self commented on why the twins did not hold a news conference like Jayhawks in the past who have decided to turn pro with eligibility remaining:
"Obviously we would have preferred to have had a press conference to do it right," Self said, "but with the firm releasing its own press release, we felt we had to respond immediately to that. That's why we put out a statement."
Recruiting: KU has four scholarships to give in recruiting, five if freshman Josh Selby, as many NBA writers believe, declares for the draft.
Selby remains enrolled at KU, but is working out at Impact Basketball in Las Vegas, a facility well known for working out draft prospects.
Self has signed Naadir Tharpe, 6-0 from Brewster Academy In Wolfeboro, N.H., and has received a commitment from Ben McLemore, 6-5 from St. Louis. Self said Thursday he would like to sign a minimum of two backcourt players and two frontcourt players and may not use all available scholarships.
Rivals.com says Self today will be visiting Trevor Lacey, a 6-3 shooting guard from Butler High in Huntsville, Ala. Lacey, who is ranked 34th by Rivals.com, averaged 31.3 points a game his senior season. He has a final list of KU, Alabama, Auburn, Kentucky and UConn. He will announce on April 22.
Others on KU's list include: DeAndre Daniels, 6-8 forward from IMG Academy in Bradenton, Fla.; Jamari Traylor, 6-7 forward, also from IMG; Braeden Anderson, 6-8 forward from Wilbraham and Monson Academy in Massachusetts; Otto Porter, 6-8 forward from Scott County Central High in Sikeston, Mo.; and Stan Simpson, 6-10, Bogan Community College in Chicago.
Reed undergoes surgery: KU senior Tyrel Reed reports that he had successful surgery on his left foot at noon Wednesday at KU Med West in Kansas City. Reed, who will be out of action two to four weeks, said he had "a piece of bone in the back of my heel called 'Os Trigonum' removed. It's a little excessive piece of bone that made everything around that area inflamed." The surgery took 30-40 minutes.