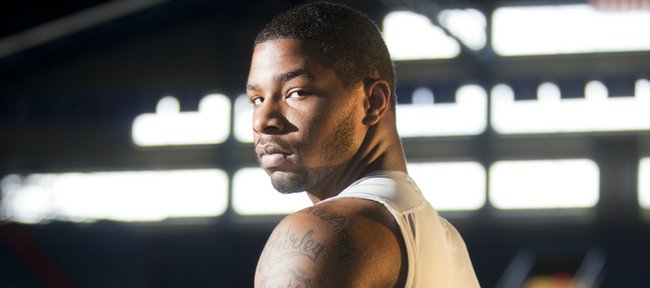 Marcus Morris was in a good mood last Wednesday ... until mid-afternoon, when a media member reminded him that Kansas University's Basketball Boot Camp loomed just five days away.
"I know. Don't remind me," junior forward Morris said, frowning. "Every time somebody starts talking about it, I drag my head and get all ..."
Depressed? Concerned? Anxious?
Actually, all of the above.
"Boot Camp is never fun," Morris said.
He and his brother, Markieff, admit they've been dreading the opening session of Bill Self's two-week Boot Camp conditioning program, set for 6 a.m. today in Allen Fieldhouse.
"Boot Camp just scares me," Markieff Morris said. "It's probably because of the time. Once you get on the court, it's all defensive (drills). Everything you do is without a ball. That's always tough."
Morning Boot Camp consists of 50 minutes to an hour's worth of non-stop movement — up-and-back sprints, defensive slides and backboard touches. After that, it's off to campus for class, followed by weightlifting, individual workouts, pick-up games and mandatory tutoring sessions.
It makes for a long day/night.
"I expect it to be the worst two weeks of basketball I've ever played," said KU freshman guard Royce Woolridge, quickly adding, "but I'll definitely be in shape and be a lot better after that.
"I'm not looking forward to it. Everything they (teammates) say about Boot Camp just makes it sound horrible. The whole team ... they all talk about how bad it is," the former Phoenix Sunnyslope High standout added, forcing a smile.
Markieff Morris unwittingly provided some comic relief at last year's Boot Camp.
"Kieff wasn't making his times (in sprints), so coach just said, 'Go sit on the sideline. You and your brother,''' senior guard Brady Morningstar said, laughing at the recollection.
"Even though Marcus was making his times, coach grouped those two together and said, 'Why don't you both just get off the court?'
"Coach was like, 'Just go sit down, don't even run no more,'" junior Tyshawn Taylor cracked.
Markieff admits it's a team-bonding story — at his expense — that will hold up well over time.
'"Everybody was too tired to laugh, but after Boot Camp was over it was a big joke," Markieff said of his getting chased from the floor. "Man ... my legs got tight, my back got tight, and I got to the point I couldn't run any more. I was making the guys run 'em over and over (as a penalty) so I guess coach got tired and said, 'Kieff, you go sit down.' Coach made me do them later when my legs felt better."
Just a freshman, guard Elijah Johnson gained respect for Morris for completing his work later that day.
"I think it was more so a mental thing. Coach wants to see what people have got mentally, so he challenges them," Johnson said. "It was nothing Kieff couldn't do. He came back later and finished up strong."
Johnson's lasting moment of his first Boot Camp came on the first day.
"The funniest thing I saw was all the garbage cans lined up around the court. That was pretty funny to me, until I had to use one," said Johnson, who barfed into one of the "Chase cans" — named for former walk-on Chase Buford, whose picture appeared on each of the bins.
They were in "honor" of Buford, who tended to throw up on a regular basis in his three Boot Camps.
"The hardest thing was just trying to make sure my teammates and I stayed on the same page because it can get frustrating sometimes," Johnson said. "It's just intense. You get to see what people got, see if people are really ready for the season or not, see how excited people are for it."
Tough on everybody, Boot Camp is most difficult on the freshmen.
"They are hearing a lot about it now. We just got done talking about it," soph Travis Releford said, continuing the tradition of educating/scaring the freshmen about Boot Camp.
"It always kills the freshmen because coach has his eyes on them," Morningstar said. "As you get older, you've been there so coach doesn't look at you as much, which I might be telling myself right now.
"They don't know what to expect. But it's just getting up in the morning and working out, nothing different that you do."
Newcomers Woolridge, Josh Selby, Niko Roberts and Justin Wesley figure to get through it.
"It'll definitely be hard to get up that early, especially running because my legs will be all tight. It's something I'll get used to," Woolridge said.
After two weeks (the players get Saturday and Sunday off), the players will taper for a week prior to the Oct. 15 season-opening Late Night in the Phog.
"This is probably more mental than anything," Self said, summing up Boot Camp, which he has held at all his coaching stops. "This is great for team unity, knowing they can get through and do something they didn't think they could do. This adds an extra element of toughness they can draw from and during the season say, 'This isn't so hard, remember when we did this (at Boot Camp)?'''