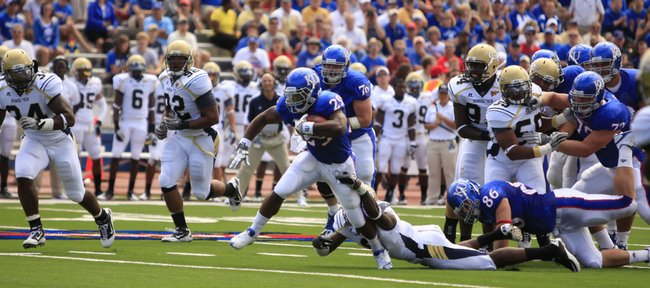 Eight was enough for the Kansas University football program, which ended an eight-game losing streak that dated back to October of 2009 with a 28-25 victory against No. 15 Georgia Tech on Saturday at Memorial Stadium.
"It was a rough week for the team," junior tight end Tim Biere said. "And the locker room after the game, there's never been anything like it. Maybe after the Missouri game, when Todd (Reesing) threw (a game-winning touchdown pass) to Kerry (Meier, to beat the Tigers in 2008). Maybe I could compare it to that, but other than that it was the best thing I've ever been a part of."
For even the most devout KU football fan, Saturday's victory was hard to imagine.
One week after suffering arguably the most humiliating loss in the program's history, the Jayhawks knocked off a ranked BCS-conference squad that brought big-time athletes and an intimidating option offense to Lawrence.
In the end, it was KU's familiarity with Georgia Tech's system, as well as the team's belief that the season was not lost, that allowed the Jayhawks to prevail.
"Before the game, (senior safety) Olaitan Oguntodu got us all huddled up and said, 'Hey, I believe that we're going to win this game. The offense is going to take care of their business, and we're going to take care of our business,'" said junior linebacker Steven Johnson, who recorded 11 tackles. "And he was like, 'Some people think we gotta go out there and play their game, but, you know what, we tell 'em when we're ready for them to pass.'"
It wasn't Oguntodu's words as much as what they represented that spoke the loudest. Here was an inexperienced senior on a team coming off an embarrassing loss telling teammates they could beat the No. 15 team in the country. Credit Kansas coach Turner Gill for bringing that attitude to town and stressing it with enough conviction that his players believe it.
There were plenty of physical factors in Saturday's victory, too. For starters, running back James Sims (17 carries, 101 yards, one TD) became the first true freshman in school history to rush for 100 yards in his debut.
"When I first stepped onto the field, I was a little nervous," Sims said. "But after all that got away, I wasn't really thinking about my yardage, I was just thinking about how I'm going to help the team win this game. You gotta give credit to everybody. We all just come together."
Red-shirt freshman quarterback Jordan Webb, who played the fourth quarter of last week's loss, started this one and brought better flow and rhythm to the offense immediately.
Webb's first start matched Sims' debut in terms of effectiveness, as the native of Union, Mo., finished 18-of-29 for 179 yards and three touchdowns.
"I loved the way he (came) in the ballgame," Gill said of Webb. "I liked his body language, and the players responded to him. That's what you want to see from a quarterback. The other 10 guys respond to your quarterback, when he's in the huddle, when he's on the field, when he's off the field, and then it carries over to your defense. And I saw that."
It was a game of many firsts.
It was KU's first home victory against a Top-15 opponent since the Jayhawks beat No. 2 Oklahoma, 28-11, in 1984.
Ted McNulty, a reserve tight end, snagged his first career reception.
Biere, who struggled mightily in last week's opener, caught his first career touchdown pass in the second quarter.
Sophomore Bradley McDougald, the team's third-leading receiver in 2009, also caught his first career touchdown pass — the first for Webb, too — and the hook-up represented the Jayhawks' first TD of the 2010 season.
Of course, many of those pale in comparison to the fact that the thrilling three-point victory forever will be remembered as Gill's first at Kansas.
Despite the fast start, KU trailed, 17-14, at halftime. In the second half, however, KU's defense took over. Though that unit surrendered 407 yards of total offense — 308 of those coming on the ground — the Jayhawks stifled Georgia Tech's option game enough that they forced the Yellow Jackets to take to the air in their attempt to come back.
Asked if that benefited his team, Gill did not hesitate to answer.
"No question about that," he said. "That's (not) something they want to do. And that gave us an opportunity to make plays. I can't speak enough about our staff. (Defensive coordinator Carl) Torbush did an excellent job."
A roughing-the-passer call against Georgia Tech kept alive a scoring drive for Kansas, and junior wideout Daymond Patterson made the Yellow Jackets pay on the next play by taking a five-yard pass from Webb and pinballing his way to a 32-yard, highlight-reel TD that ended up being the difference.
Now that Gill has seen his team play like he knew it was capable of, the first-year coach is ready for the next step.
"As they come in Monday, I need to see where their focus is," Gill said. "They've shown me how they handle a loss, now I need to see how they handle a win, how they handle prosperity."